Lemon pie recipe with Eagle Brand milk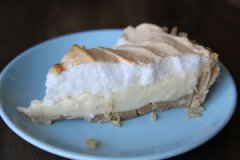 From the day I started this blog, there has always been one recipe that I wanted to share, but couldn't. It's my grandfather's recipe for Lemon Icebox Pie. From the time I was a kid, it has always been a special treat for Papa (we pronounce it paw-paw because we're good Southern speaking folks) to squeeze fresh lemons and make his Lemon Icebox Pie. But in the last few years, we've gotten fewer and fewer pies from Papa. You see, he developed a debilitating depression that completely changed the person he was. The usually outgoing, fun-loving, fill-every-day-to-the-fullest man became a man that rarely ever got out of the chair. It's been so frustrating and sad to see what this disease has done to him – how it's changed him into a person that I still don't recognize. It's funny though, despite the fact the we all love Papa's lemon pies, no one has ever attempted to make them. That's always been Papa's job. I've been asking him for the recipe for years, and I've never been able to get it out of him.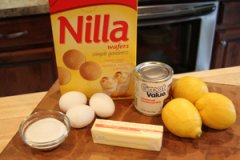 I'm not sure if it was the depression that made him think he couldn't remember the recipe or it was him just not willing to let us in on the secret. Regardless, I could have jumped on the internet and found thousands of Icebox Lemon Pie recipes – I knew most of the ingredients he used, just not the exact amounts – but I didn't want someone else's recipe, I wanted my Papa's recipe. I wanted to hear him tell me how to make it. I wanted him to be his old self enough to tell me the recipe. Well, this weekend… he told me the recipe. And sure enough, the exact recipe is all over the internet and I could have been making these pies years ago. But I didn't want those pies, I wanted my Papa's pies. And now I can have them.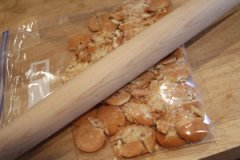 This disease has affected our family like nothing else ever has. Sure he has good days and bad ones. But we are confident that one day, we'll have our old Papa back. Hope and faith are about all you can count on when dealing with something like this. I urge you if you or someone you know is battling depression, get help. Talk to someone.
I'm telling you this pie will knock your socks off. It is a great tart, cool summer treat! Maybe it will become a favorite in your family too.
1 1/2 cups Nilla Wafers, crushed (about 50 cookies)
1/2 cup butter (1 stick)
3 lemons, juiced
1 can sweetened condensed milk (14 oz)
3 eggs
4 tablespoons sugar
Directions
First, you'll need to crush the Nilla Wafers. You can certainly use a food processor for this, but I crushed them using my rolling pin just like my Papa's does it.
Combine the egg yolks, lemon juice, and sweetened condensed milk in a large bowl. Pour into crust.
Add sugar and continue beating until soft peaks form. (Soft peaks are when the meringue is thick, but still soft enough that the peaks bend.)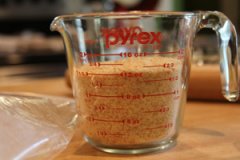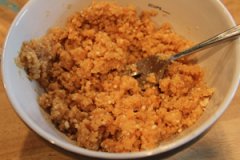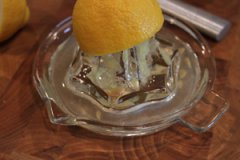 More
Popular Q&A