Yorkshire Pudding recipe no milk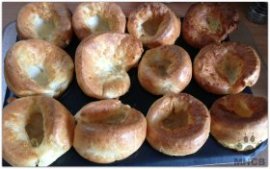 I have been using a recipe I have tweaked, to make dairy (cows milk) free Yorkshire puddings, for a while. Because LSH can tolerate a small amount of gluten, he eats them, but my mother in law prefers to eat gluten free when at all possible, and I was making a roast lunch today, and in our house, you cannot have roast lunch without Yorkshire puddings, so I decided to try them with gluten free flour….
I can hand on heart say, that if you eat these, you would not know they are gluten free. They came out crispy and golden and soaked up gravy beautifully. I am delighted they worked out. These really are amazing, gluten free, and glorious!
I used this Dove's Farm gluten free flour. They have their own recipe, but I used my own, and it worked well. It contains Rice, Potato, Tapioca, Maize & Buckwheat. It does require a little more liquid than normal flour, I think because of the "absorbent" capacity of the first three ingredients but It just tweaked my normal recipe and worked it out.
You need:
A muffin tin tray. This recipe makes approximately 12 Yorkshire puddings.
· A large plastic jug (makes pouring the batter much easier)
· Vegetable oil
· 300 ml milk (approximately, you may have to tweak this, as I said above)
· 115 g plain flour
· 1 pinch salt and pepper and 3/4 tsp of baking powder (gluten free stuff is available in most supermarkets)
· 3 free-range eggs
Put the flour, baking powder, salt and pepper into a jug, then add the milk, and whisk thoroughly. The add the eggs, and whisk again, to make sure there no lumps. I then put the batter mix in the fridge for at least half an hour. I find the best way to make crispy, well risen puddings is to make sure the batter is cold, and the oil is super hot. I put about a tablespoon of oil in each muffin slot, and put the tray in the oven, to heat the oil for 10 minutes, at 220. When the oil is heated, carefully pour the batter into each slot, and put them back in the oven at 200 for 20-25 minutes depending on your oven and if it is a fan system or not. They should be risen, golden and crispy, and slightly doughy inside. Don't open the oven to check on them, if you can avoid it, you don't want to deflate them.
Enjoy, with lots of good gravy and the rest of your roast. Gluten free, cows milk free Yorkshire puddings are possible, we use this recipe regularly. You can also find our recipe for Toad in the Hole, to try too…
*You can use soya milk or normal cows milk, if dairy is not a problem for your family*
Original content here is published under these license terms:
License Type: Read Only
License Summary: You may read the original content in the context in which it is published (at this web address). No other copying or use is permitted without written agreement from the author.
More
Photo Jigsaw Puzzle of Turkish Mahallebi seller, Istanbul, Turkey


Home (Prints Online)




PHOTO JIGSAW PUZZLE You are purchasing one Photo Puzzle (252 Pieces). Estimated image size 356x254mm
10x14 252 Piece Puzzle comes with loose pieces in a designer box with your photo on top. The box is sized to fit most mail boxes. Great gift for kids, grandparents...
Artwork Description Seller of Mahallebi (Muhallebi), a milk pudding of Lebanese origin coated in chopped pistachios, originally made with wheat flour and flavored...
For any queries regarding this choice of artwork please contact Prints Online. Image (c) Mary Evans / Grenville Collins Postcard Collection
To view this image on other products please search for code 11580735
Canvas Print of Turkish Mahallebi seller, Istanbul, Turkey


Home (Prints Online)




CANVAS PRINT You are purchasing one 24x16 inch (61x41cm) Canvas Print with Coloured Sides. Estimated image size 610x406mm
Photo printed on archival quality canvas. Laminated. Canvas print stretched and hand mounted over thick 1 3/8 inch wooden bars. No frame, Gallery art appearance...
Artwork Description Seller of Mahallebi (Muhallebi), a milk pudding of Lebanese origin coated in chopped pistachios, originally made with wheat flour and flavored...
For any queries regarding this choice of artwork please contact Prints Online. Image (c) Mary Evans / Grenville Collins Postcard Collection
To view this image on other products please search for code 11580735
Popular Q&A