Recipe Banana Pudding condensed milk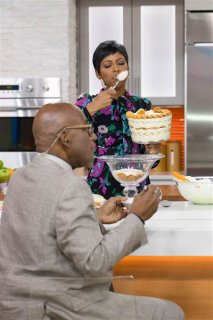 Share
tweet
pin
My mother is the most loving person. She was at every track meet, every science fair. But the one thing I love most about her is that compassionate spirit she has for anyone.
My mom admittedly is not a big cook. My dad did most of the cooking when we grew up. But my mother does a really tasty banana pudding. And whenever she makes it, it's the first thing that's gone! My mom is quite proud of it, and she should be — because it's tasty!
The trick is to make sure you refrigerate it for at least 8 hours. It will be tempting to eat it sooner, but don't give in. The wait is worth it.
Samantha Okazaki / TODAY
Ingredients
1 box instant vanilla pudding mix
½ cup milk (whole or low-fat)
1 14-ounce can condensed milk
1 12-ounce container frozen whipped topping (regular or light)
1 11-ounce box vanilla wafer cookies
4 bananas, sliced into ¼-inch thick rounds
Preparation
In a large mixing bowl, whisk together pudding mix and milk. Whisk in condensed milk, followed by whipped topping. The mixture should be creamy, not runny.
Place a layer of cookies in the bottom of a serving bowl. Spread ¼ of the pudding over the cookies. Lay ½ the banana slices over the pudding in a single layer. Spread another ¼ of the pudding over the bananas. Repeat. Place any remaining cookies on top.
Refrigerate at least 3 hours or preferably overnight.
More
Low Carb Evaporated Milk Mix - LC Foods - All Natural - High Protein - Low Lactose - High Calcium - No Sugar - Diabetic Friendly - Low Carb Milk - 4.9 oz


Grocery (LC Foods Corporation)




Low Carb - All Natural - Gluten Free - No Sugar - Diabetic Friendly
All Natural Ingredients
Per 1.5 tsp: 0 Net Carbs
Manufactured in the United States
Includes: 1 - 4.9 oz Mix
Popular Q&A
Recipe for milk toffee? | Yahoo Answers

Make a graham crust with the graham crackers, sugar and butter. (1 cup graham crumbs plus 1/3 cup butter plus 1/4 cup butter)
For the filling, It's just sweetened condensed milk (1 can), plus 4 egg yolks and 1/4 cup lime juice.
Bake the crust (no filling).
Add the filling to the crust and optionally (it doesn't have to be baked but I do) bake the pie for about another 12 minutes (all at 350f)