Ice cream recipe with condensed milk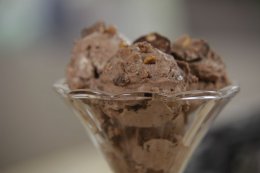 This is a great way for making ice cream at home without having to invest in an icecream maker. Its rich and luxurious flavour is hard to resist with bursts of dark chocolate and crunchy caremelised nuts.
500ml double cream
1x 395g tin condensed milk
2 tsp vanilla extract
50g coco powder
5 baci chocolates, 3 roughly chopped and 2 sliced (optional). These are dark Italian chocolates with a hazelnut and truffle centre.
100g whole hazelnuts
2 tbsp icing sugar
First place a small frying pan on a medium heat along with the icing sugar. Stir so that the nuts become coated in the icing sugar .
Heat for 5-10 minutes (moving the pan around every few minutes to make sure the nuts don't catch or burn) until the icing sugar coats the hazelnuts and they start to go golden and caramelised. Once golden place in a pestle and mortar and lightly bash into medium pieces. Leave to one side.
Whisk to soft peaks the double cream, condensed milk and vanilla extract together which forms the base of any icecream flavour you want to make at home. Do not over beat. Then whip in the cocoa powder, and then fold in most of the chopped baci and most of the hazelnuts (saving some for decorating on top)
Place in a freezable dish and top with the remaining hazelnuts, chopped and sliced baci and dust with a little cocoa powder to finish.
More