Rocky Road recipe with milk chocolate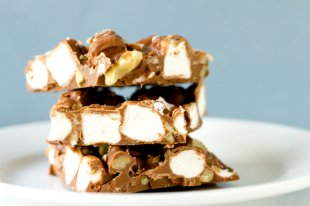 It's likely that for most people, rocky road was an ice cream flavor that was introduced early and loved often. I am the exception to the rule. Never once did I have rocky road ice cream growing up. Maybe it was due to our family's love of soft serve vs. "regular" ice cream, or maybe because I overwhelmingly preferred vanilla ice cream to chocolate. Whatever the case, rocky road never made it onto my radar until I was in my late 20's. This is shaping up like a Greek tragedy, isn't it? Don't worry, it has a happy ending! Almost four years ago, I made my very first trek to visit my Chief Culinary Consultant. One of the first things I noticed was that if you looked out the living room window of his apartment, directly across the street, lit up in all of its neon-sign glory, was Marble Slab. Ice cream heaven within walking distance?! This was downright magical. We made the most of that walk across the street many, many, many times. Summer, spring, fall or winter, it didn't matter. We ran across one cold night in the middle of January during halftime of a Steelers playoff game. They went on to win that game, and then the Super Bowl a few weeks later. I think it was the ice cream magic. My Chief Culinary Consultant's favorite concoction there was the rocky road. He almost died when I said I'd never had it, so he insisted I try it. It was a mixture of incredibly rich chocolate ice cream, tons of mini marshmallows, chunks of walnuts and chocolate chips. I was in love. I can't even tell you how many waffle bowls of rocky road ice cream we demolished over the course of a few years, but the number is sizable. As is the number of white shirts that now bear chocolate ice cream stains (oops).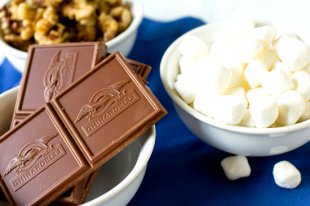 You've probably figured out by now that I have a serious thing for chocolate bark. It started many, many years ago when I began making a simple peppermint bark for the holidays and has blossomed into "what other flavor combinations can I turn into chocolate bark?!" I've done, salted caramel cashew, and even one with leftover Halloween candy. Even though I've eaten it all year round, rocky road definitely makes me think of summer. Maybe it's the combination of marshmallows and chocolate, which I naturally associate with s'mores. Something made a light bulb go off this week, connecting rocky road and chocolate bark. Isn't it beautiful how food ideas can come together?!
Now, since my first foray into rocky road included walnuts, I naturally assumed that was the norm for rocky road. Then all of a sudden, I started seeing the ice cream at the store and almost all of it had almonds in it. Which was right?! My foodie head hurt. One quick trip to Wikipedia and it was all sorted out… apparently William Dreyer (one-half of the original partnership behind what is now Edy's ice cream) used his wife's sewing scissors to cut up walnuts and marshmallows and added them to his chocolate ice cream. Later, the walnuts would be replaced by almonds.
So, there you have it! Walnuts or almonds, it's up to you! Or maybe you prefer peanuts? Throw those in! The only rule I have, which I feel very strongly about when making any kind of bark, is to use the absolute best chocolate you can find/afford. With such a pronounced amount of chocolate, you want the good stuff !
One year ago: Jalapeño Popper Dip
Two years ago: How to Make Perfect Homemade Popcorn
Three years ago: The Signature Salad
Four years ago: Black-and-White Banana Loaf
Rocky Road Chocolate Bark
Yield: About 1 pound of bark
Prep Time: 15 minutes
Total Time: 15 minutes
Ingredients:
16 ounces good-quality milk or semisweet chocolate, finely chopped
1 cup miniature marshmallows
1 cup coarsely chopped walnuts
Directions:
1. Line a baking sheet with parchment paper and set aside.
2. Melt the chocolate over a double boiler (or in 30-second intervals in the microwave on 50% power, stirring after each). Once the chocolate is melted, remove from the heat and let sit for a few minutes to cool slightly, stirring occasionally. Add the marshmallows and walnuts and stir to combine.
3. Spread the chocolate mixture onto the prepared pan in an even layer, covering about a 7x7-inch space. It doesn't have to be perfect, but that's a good guideline.
4. Refrigerate for at least 30 minutes, or until set.
5. Using a sharp knife, cut the bark into pieces. Store in an airtight container in the refrigerator.
More
SNICKERS Rockin' Nut Road Singles Size Chocolate Candy Bars 1.76-Ounce Bar 24-Count Box


Grocery (Snickers)




Includes two 12-packs of individually wrapped Snickers Rocking Nut Road Bars (1.76-ounce bars)
Case of 24
Contains almonds, marshmallow-flavored nougat, caramel and dark chocolate
A good snack to have when you are hungry
Great for restaurants, stores, offices and your home s cupboard
Delicious whether unwrapped and enjoyed or incorporated into dessert recipes!
Kosher
Kraft MINUTE TAPIOCA 8oz (8 Pack)


Grocery




8 - 8oz Boxes of MINUTE TAPIOCA by Kraft
For over 100 years, MINUTE Tapioca in the familiar red and white box has been an American kitchen staple. Families have been using MINUTE Tapioca to make favorite...
Popular Q&A