Recipe for milk chocolate Truffles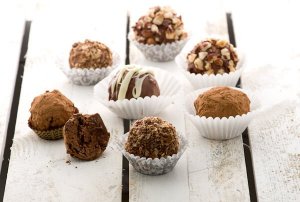 Do you know what's more precious than these Nutella Chocolate Truffles?
This adorable, happy couple right here, Adam and Joanne of Inspired Taste Blog. If you're not familiar with their blog, I dare you to hop over there and check out warm, irresistable Pear Vanilla Muffins or zingy Olives with Lemon Confit and Chili Flakes!
What I love about them is that they make simple, honest food…and no, I don't mean that these truffles won't lie!….but that their recipes require few, but quality ingredients. Good food without the fuss.
Oh and did I mention their knack for making food just pop out of the screen?!
I wish they lived next door.
I would wash their car in exchange for dinner.
I've asked them to write a guest post for Steamy Kitchen and look what they came up with…..
Nutella. Chocolate. Truffles.
Frozen Nutella surrounded by creamy, milky chocolate.
But hold on. There's more.
Rolled in crushed hazelnut wafers.
oh. my. buddha-belly.
Just after the holidays, Joanne and I were lucky enough to take a trip to Paris, France. That was just over a month ago, we are still dreaming about all the food, smells, sights, history and romance the "City of Lights" had to offer. We are also getting used to the fact that back here at home, there really aren't any street vendors offering up Nutella crepes, a truth that has been most upsetting. We have however, realized that we must move on, so in an attempt to do so, we spent a day in the kitchen turning our frustration into inspiration and making these truffles.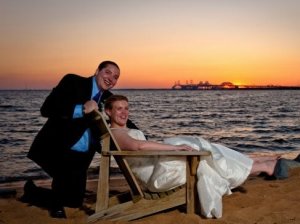 The truffles start with a Nutella center, surrounded with a soft milk chocolate ganache then coated with more milk chocolate and tossed in ground hazelnut wafers and then, as if that was not enough, we coated a few of them with more milk chocolate and rolled them in cocoa powder and hazelnuts. We feel it is safe to say that these will certainly satisfy any chocolate or truffle craving.
Yum
Servings: 16 Truffles Prep Time: Cook Time:
Ingredients:
1/2 cup Nutella, divided
4 ounces (1/2 cup) heavy cream
5 ounces milk chocolate, chopped finely or you can use milk chocolate chips
Garnish
8 hazelnut wafers, crushed
8 ounces milk chocolate for coating (or
milk chocolate chips
)
Optional Garnish
Cocoa powder
Finely chopped hazelnuts
Directions:
1. Nutella Centers: Line a baking sheet with parchment paper. With just half of the Nutella (about 4 tablespoons), fill piping bag (or you can use 2 small spoons) to create 16 Nutella centers, they should be no larger than half a teaspoon. Leave in the freezer for 1 hour, until frozen.
2. Ganache: Heat the cream in a heavy-bottomed saucepan until bubbles begin to form around the edge of the pan. Place the finely chopped milk chocolate and the remaining Nutella into a medium-sized mixing bowl. Pour half of the hot cream over the milk chocolate; allow it to sit for 30 seconds. Then, slowly whisk until smooth. Add the remaining hot cream gradually and mix until all of the cream has been incorporated and the ganache is smooth. Leave to cool in the refrigerator for 15 minutes.
3. Whip the cold ganache until light and fluffy; place back into the refrigerator for at least 30 minutes or until you are ready to make the truffles.
4. Working quickly, use two spoons to roll the Nutella centers into the whipped ganache. Working in batches may be best in order to prevent any softening of the ganache and centers. For a smoother truffle, you can use powder-free latex gloves to roll them by hand. Place the truffles back onto a parchment-lined baking sheet and leave in the fridge for 15 minutes.
5. Melt 8 ounces of milk chocolate either over a double boiler or in the microwave. To melt the chocolate in the microwave, chop the remaining 8 ounces of milk chocolate and place ¾ of it in a small microwave-safe bowl in the microwave for 20 seconds. Stir the chocolate and continue to microwave for 20 seconds at a time, stirring in between, until the chocolate is smooth and shiny. Add the remaining ¼ of the chocolate and stir until smooth.
More
Popular Q&A
What is the substitute for raw eggs in a Chocolate cookie recipe? | Yahoo Answers
uhmm put a little oil mixed in a tiny glass of milk and add a little salt
it really works