Homemade chocolate milk Recipes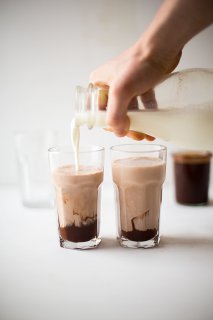 Woah, woah woah, clearly I've gone off the deep end here. Drinking raw milk, and now formulating a chocolate milk recipe, clearly I'm a savage. My stance was stated in one of my last posts, eat whatever you want. And I do, I just make sure that I still feel good after said food is consumed. That is if it's going to be a regular thing. I always thought that dairy caused problems for me but once I eliminated it for a few months and nothing changed I pretty much assumed that it wasn't a problem for me, thankfully so.
Recently I've started including raw dairy on my training days for extra calories since I'm intentionally gaining weight now (muscle of course). It's kind of ironic with such a drastic contrast of me losing over 100 pounds and now gaining weight on purpose. Of course I'm also doing a heavy lifting strength program consisting mainly of deadlifts, squats, press, cleans, pull-ups, etc. Since milk was such a great calorie source I was excited to finally try my go to farms raw milk. First off, it was completely life changing. Each freshly poured glass is like an ice cold, creamy, refreshing elixir waiting to comfort me.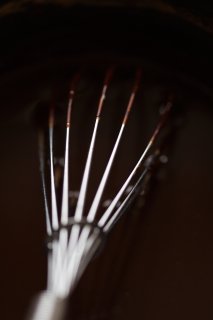 I'm so incredibly glad that my farmer was so adamant on me trying it. No wonder he drinks it all day every day, literally.
Since I was constantly drinking raw milk I started thinking of different possible flavor infusions like cinnamon, chai spiced, and of course classic chocolate. My friend Jason prefers his "in the nude", and I completely understand why and agree, but sometimes I like to fancy things up because that's how I roll. If any of you have ever tried to mix anything like cocoa powder or cinnamon inside of a cold milk then you understand the feeling of sadness that consumes you as you watch the swirling powder rise to the top of the milk and float on the surface.
I think it comes down to solubility in the thing that your mixing into the milk and these fine powders are just not soluble enough. So thank you science class for teaching me how to increase solubility through heating. My only concern with heating the raw milk was that it cause the milk to no longer to be raw.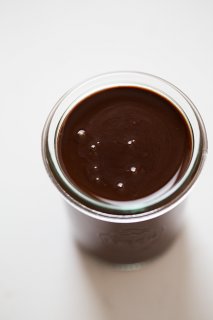 So of course the solution would be to make a pre-dissolved liquid version of chocolate, hence chocolate syrup, but without junk. The cool thing about this chocolate syrup is that you can actually use it for anything you want to be chocoalte flavored whether it be yogurt, coconut milk, almond milk, whipped cream, you name it! So take that Hersheys. Just kidding, please don't sue me.
Homemade Chocolate Milk
How to make a homemade chocolate syrup for quick and easy chocolate milk.
Ingredients
any milk of choice (raw milk, coconut milk, almond milk, etc., I used raw milk)
For the Syrup:
1 cup cacao powder
1 cup water
1 cup coconut sugar or 2½ teaspoons liquid stevia
1 tablespoon vanilla extract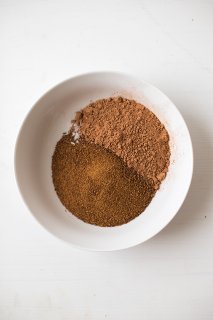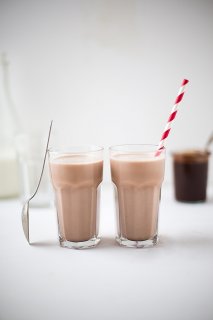 Popular Q&A