Easy vanilla Fudge recipe using condensed milk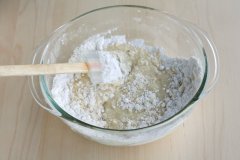 The first contender was the fudge made with boxed cake mix. A cup of cake mix was combined with a cup of powdered sugar. Then an 1/8 cup of milk and a 1/4 cup of butter were added and it was microwaved until soft enough to stir together.
At this point I couldn't stop thinking about how this 'fudge' was just a bunch of flour and powdered sugar..I was already questioning how it would score in the texture category of judging.
But I put my doubts aside and carefully folded the all-important sprinkles into the batter (not stirred, otherwise their colour would melt off into the fudge and turn it a sludgy colour)...
This required combining a 14 oz can of condensed milk and a whole lot of white chocolate. It was gently melted in the microwave before stirring in vanilla and almond extract.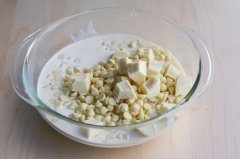 This fudge looked silky smooth and appealing.. but would it taste like cake batter?
This batch was simply topped with a layer of sprinkles for two reasons:
1. I like the photos of the fudge that don't have sprinkles inside them. Just white fudge and a super cheerful sprinkle crust.
2. The previous batch of fudge had almost depleted my sprinkle stash.
Then this batch also went into the fridge to set and the waiting game began.
Then it was time. The first fudge was set and ready for judging.
Fudge #1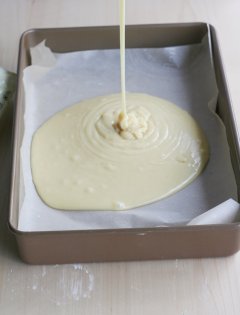 Appearance: Definitely looks like fudge. Like the prettiest happiest fudge you've ever seen.. I mean, look at it! It's like a birthday celebration contained in a tiny square.
Score: 10/10
Flavor: The first bite tastes just like birthday cake batter, but as your brain is about to congratulate you on eating such a tasty piece of fudge, it's suddenly interrupted by "Is that a fake sweetener aftertaste? But I thought it was real sugar?" And then just a long.. lingering.. "yuck"
And then "ew..chemicals"
Then you put the fudge away in the fridge.. and come back a few hours later thinking that maybe you were too harsh and should try another piece. And the thought process from above repeats.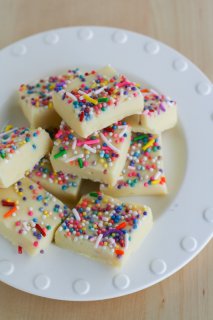 Score: 2/10
Texture: The first bite legitimately feels like fudge. A slight resistance on the teeth gives way to a melting texture. But then the melting stops.. because it's just a square of cake mix and it is now coating your mouth with flour. It's confusing but can sort of be remedied by cutting the fudge into itty bitty squares.
The other texture issue stems from the sheer amount of sprinkles folded into the batter. It's just too many sprinkles (and perhaps that is where the fake chemical flavor is coming from? Or is that from the cake mix?)
Score: 2/10 point
Fudge #2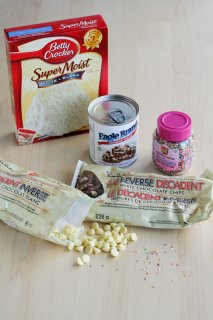 Apperance: While it's definitely cute and cheerful, it doesn't really look like fudge. The candy ends up being very soft and melts easily which makes the little squares look sort of floppy. Like brie with sprinkles on it.
Score: 7/10
Flavor: This fudge's flavor was actually really lovely. I was worried that it would be too sweet, but even my sweet-shunning boyfriend asked for a second piece. The little bit of almond extract really compliments the white chocolate. I wouldn't say that it was cake batter flavored, it actually tasted like a cross between birthday cake and vanilla ice cream.
Score 8/10
Texture: This is where the fudge really loses points. I had to make a second batch with a higher ratio of white chocolate because the first never set properly. The second batch set but was still very soft and very melty. It's a soft, melty chocolate texture which is nice, but definitely not a fudge texture. It also melts so easily that it gets your fingers pretty sticky.
Score 3/10
Conclusion:
Fudge #2 is the winner points-wise, but it's melty, sticky ways mean that I'll probably never serve it at a party.
Fudge #1 is ...sort of gross but totally tastes like cake batter. I could definitely see making it with waaay less sprinkles and cutting it into teeny tiny itty bitty pieces to serve on froyo or ice cream as cake batter bites.
ORGANIC PROTEIN POWDER Plant-Based (Fair Trade Creamy Chocolate Fudge) by MARYRUTH - Vegan, Gluten Free, Non-GMO, Soy Free, Dairy Free, Nut Free, No Fillers, No Additives, Paleo Friendly 16.3 oz


Grocery (MaryRuth Organics)




CREAMY CHOCOLATE FUDGE: Tastes Exactly Like Chocolate! For Children, Teenagers, and Adults! Excellent tasting in smoothies and baking. MaryRuth Organics is known...
NO fillers, NO binders, NO additives, NO whey, NO grains, NO soy, NO dairy, GLUTEN FREE, VEGAN, PALEO FRIENDLY, CERTIFIED ORGANIC
16.3 Oz. Excellent Taste. Made of ONLY 6 of the highest purity ingredients. CERTIFIED USDA ORGANIC and FAIR TRADE ingredients.
Made from 100% Organic Pumpkin Seeds. Other Ingredients: organic cane sugar, organic fair trade cocoa powder, organic natural chocolate flavor, organic natural vanilla...
Contains 14g of protein per serving ( to support lean body mass and healthy body. Highly digestible. Excellent source of protein.