Vegetable green curry recipe coconut milk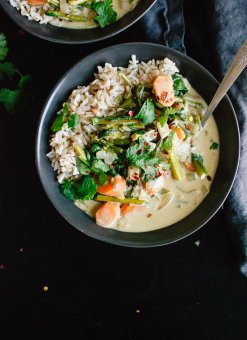 Show of hands: who drank too much Guinness last night? Not me. I took it easy with Cookie and ate some green curry for dinner. Maybe I was sampling from the wrong region, but it seemed festive enough. I've been on a vegetable-packed coconut curry kick lately—they're just the perfect transition food for this time of year.
This curry is based on my old Thai green curry recipe. I loved the base recipe for that dish (I learned how to make it at a fun cooking class), but I was never quite satisfied by my choice of mix-ins. So here we are, three years later, with an improved and extra-green version. This time, I opted for asparagus (snow peas would also work), carrots and wilted spinach.
I skipped the tofu altogether and found the dish to be plenty hearty without it. If you want to add tofu, though, I'd suggest baking it first and adding it with the coconut milk. I served my curry over rice (again), but I bet quinoa would be an interesting alternative. Let me know how you like it!
Author: Cookie and Kate
Recipe type: Entree
Cuisine: Thai
Prep time: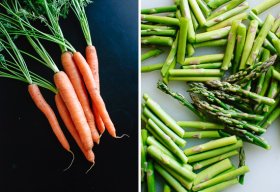 Cook time:
Total time:
Serves: 2 to 4 servings
This healthy, vegetarian Thai green curry features fresh asparagus, carrots and spinach! It's full of flavor and simple enough for weeknight dinners. Feel free to substitute sliced snow peas for the asparagus if it's not in season where you live. Recipe yields two large servings (as shown) or four small servings.
Ingredients
1 cup brown basmati rice, rinsed
2 teaspoons coconut oil or olive oil
1 small white onion, diced
1 tablespoon finely chopped fresh ginger (about a 1-inch nub of ginger, peeled and chopped)
2 cloves garlic, finely chopped
Pinch of salt
½ bunch asparagus, tough ends removed and sliced into 2-inch long pieces (to yield about 2 cups prepared asparagus)
3 carrots, peeled and sliced on the diagonal into ¼-inch wide rounds (to yield about 1 cup sliced carrots)
1 can (14 ounces) coconut milk (I used full-fat coconut milk for a richer curry)
½ cup water
1½ teaspoons coconut sugar or turbinado (raw) sugar or brown sugar
2 cups packed baby spinach, roughly chopped
1½ teaspoons rice vinegar
1½ teaspoons soy sauce** (I used reduced-sodium tamari)
Garnishes: handful of chopped fresh cilantro and red pepper flakes, to taste
Instructions
To cook the rice, bring a large pot of water to boil. Add the rinsed rice and continue boiling for 30 minutes, reducing heat as necessary to prevent overflow. Remove from heat, drain the rice and return the rice to pot. Cover and let the rice rest for 10 minutes or longer, until you're ready to serve.
Warm a large skillet with deep sides over medium heat. Once it's hot, add a couple teaspoons of oil. Cook the onion, ginger and garlic with a sprinkle of salt for about 5 minutes, stirring often. Add the asparagus and carrots and cook for 3 more minutes, stirring occasionally. Then add the curry paste and cook, stirring often, for 2 minutes.
Pour the coconut milk into the pan, along with ½ cup water and 1½ teaspoons sugar. Bring the mixture to a simmer. Reduce heat as necessary to maintain a gentle simmer and cook until the carrots and asparagus are tender and cooked through, about 5 to 10 minutes.
Once the vegetables are done cooking, stir the spinach into the mixture and cook until the spinach has wilted, about 30 seconds. Remove the curry from heat and season with rice vinegar and soy sauce. Add salt and red pepper flakes (optional), to taste. Divide rice and curry into bowls and garnish with chopped cilantro and a sprinkle of red pepper flakes, if you'd like.
Notes
*Green curry paste:
Look for it in the Asian section of the grocery store. I like Thai Kitchen brand.
**Make it gluten free:
Be sure to use gluten-free tamari instead of regular soy sauce.
If you love this recipe:
Be sure to check out my other Thai-inspired recipes here!
More
Popular Q&A
Can I substitute soya or cows milk for coconut milk in a curry recipe? | Yahoo Answers
You can, but use a thick milk product, like cream. Add some finely grated unsweetened coconut to make up the flavour. Coconut milk is best, though.