Healthy Chicken curry recipe coconut milk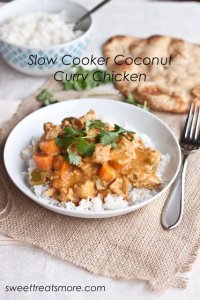 The first time I ever tasted curry was shortly after Brett and I got married. For a date night we went with some good friends for a scenic fall drive through the Alpine Loop (if you live in Utah, you know how beautiful the Alpine Loop is!). We planned to grab a bite at a new burger joint afterwards but by the time we got back it was late, the burger joint was closed, and we were starving.
Our friends talked us in to trying a Thai restaurant that was nearby and happened to be open late (Kellie, do you remember this?). I was skeptical- I had never tried Thai or curry, and the fact they were open late made me wonder if they were desperate for business? But we gave it a try. Our friends told us exactly what to order–a couple of different curries with rice and noodles. And we loved it!
My friend told me about this slow cooker Coconut Curry Chicken recipe and the instant I heard "slow cooker" and "curry", I knew I needed to try it. As much as we love going out for curry I was excited to have a simple way to make it at home. The recipe is from Carpe Season and originally found at Tasty Kitchen.
There's a few ingredients you might not have in your pantry that you'll need: coconut milk, curry powder, and garam masala (Indian spice mix). Most grocery stores carry all three. Once you try this, you'll keep them on hand so you can make this any time you want!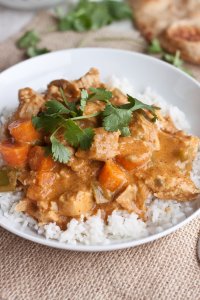 We loved it and Brett keeps asking me when we can have it again.
Serves 6
Ingredients
2 lb boneless skinless chicken breasts or chicken thighs, cut into cubes
5 large carrots, peeled and diced
1 medium onion, peeled and quartered
2 cloves garlic, peeled
1 large bell pepper, seeded and chopped (I used a green pepper)
1 (5 oz ) can tomato paste
1 (14 oz) can coconut milk
1 1/2 tsp salt
1 tbsp curry powder
1 tbsp garam masala
1 jalapeno, seeded and halved OR 1 tsp crushed red pepper flakes
2 tbsp water
1 1/2 tbsp cornstarch
Instructions
Grease your slow cooker with Pam. Place the chicken and carrots on the bottom of slow cooker.
Place the rest of the ingredients (except water and corn starch) in a food processor and process together until mixture is mostly smooth. ***If your food processor is too small to hold everything, process everything but the coconut milk. Transfer mixture to a medium bowl then mix in the coconut milk.
Pour the sauce over the chicken and carrots, mix well, then cover and cook on low for about 6 hours.
An hour or so before serving, mix cornstarch and water together in a small bowl until cornstarch is dissolved. Pour mixture into the slow cooker, stir to combine, and continue cooking for another hour. **This will thicken up the sauce. When the sauce is to your desired thickness, turn slow cooker to warm setting until ready to serve.
Serve over rice, with Naan, and garnish with cilantro.
Notes
*if you want you can chop the bell pepper into larger pieces and place in with the chicken and carrots rather than processing into the sauce. This is what I did and we loved the different textures of the carrots, chicken, and pepper in the sauce.
More
Chicken Yellow Curry- Ready to Eat (On Sale!!!)- Thai Halal Food


Grocery (Roza)




Chicken Yellow Curry
105 g.
Ready to Eat
To create delicate taste, Thai recipe usually uses many kinds of herb - the benefits of your health.
Halal
Thai Ready Meal - Chicken Yellow Curry


Grocery




Chicken Yellow Curry
Ready to Eat
105 g.
To create delicate taste, Thai recipe usually uses many kinds of herb - the benefits of your health.
Halal