Mild Chicken curry recipe with coconut milk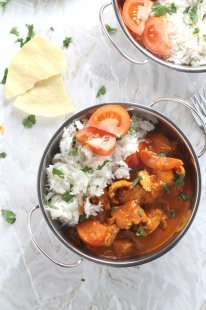 A quick and easy cook-from-scratch Chicken, Coconut & Tomato Curry recipe. Super mild and suitable for kids!
Who doesn't love a good chicken curry, especially when it's cold and miserable outside. Although there's nothing better than homemade curry paste slow cooked for hours, it's just not always practical especially when you need to prepare a quick and easy mid week meal for the family. It's all too easy to reach for a jar of curry sauce but almost all the ready made curry sauces out there are loaded with unnecessary sugar. My solution? This Chicken, Coconut & Tomato Curry.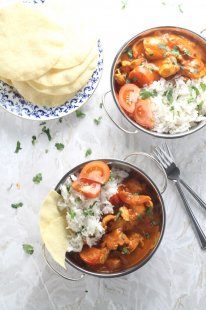 It's quite possibly the easiest cook-from-scratch curry recipe you'll find, using just a handful of simple ingredients.
If your family isn't a fan of spice, then don't worry, this recipe is very mild. My 3 year old had no problem with it but for the baby I mixed the sauce with some greek yogurt, just to be sure it would be ok for his little taste buds!
I used raw chicken breast pieces in this recipe but you could also use cooked chicken, ideal if you have leftovers from your Sunday roast. In this case I would simmer the cooked chicken in the sauce for about 4-5 minutes to warm it through, before adding the tomatoes.
This recipe will also keep well in the fridge for up to 2 days. I often find that curries taste even better reheated the next day!
I served my curry with white basmati rice and poppadoms. Naan bread would be delicious too, perfect for soaking up all that amazing creamy sauce. This recipe went down a storm with my family and is now a firm favourite on our meal plans. I hope you enjoy it too!
More
Lobo 2in1 Masaman Curry Paste with Creamed Coconut 100g.(3.5 oz) (3 PACKS)


Grocery (Lobo)




Size 100g(3.5 oz)3 Packs
Massaman Curry with coconut milk concentrate
2-3 serving