Thai Recipes Using coconut milk
I have some really exciting news to share, Yummy Pics: A Food Blogger's Guide to Better Photos has been on the top 100 list for 6 months! I am super excited about this and have to thank all of you who have purchased a copy — thank you so much. When I released the ebook in October of last year I never imagined that it would remain on the top 100 list for the following six months. The feedback and reviews have been amazing and now this news is just the cherry on top that requires a Happy Dance.
In celebration I would like to share with you the recipe that is on the cover or Yummy Pics. I meant to share it with you soon after the release but somehow it never happen. Alas, here is my Thai Red Curry with Vegetables and Coconut Milk recipe. It is really so easy to make and you really don't need a recipe as it can be adjusted to what you have in your refrigerator. So use my recipe more as a guide and use your favorite seasonal vegetables. Also I like to serve this vegetable curry over rice noodles but it can be served with steamed Jasmine rice too.
Okay, let's get cooking!
An easy Thai red curry that can be made in 30 minutes! It is a healthy and light meal that is gluten free.
Author: SpicieFoodie.com &Nancy Lopez-McHugh
Recipe type: Vegetarian, Meatless Meals, Curry
Cuisine: Thai, Curry, Vegetarian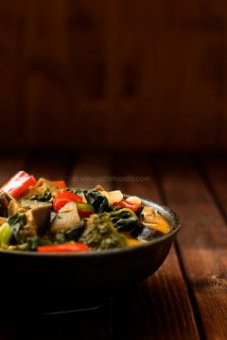 Serves: 2-3
Ingredients
2 tbsp vegetable oil or coconut oil
1 small onion, finely chopped
3 garlic cloves minced or thinly sliced
1 small piece of (peeled) finely chopped ginger
2-3 tbsp red curry paste, adjust to taste*
1 tsp ground turmeric**, optional
1-2 tbsp fish sauce***, optional & adjust to taste
splash of soy sauce, adjust to taste
1 can coconut milk, 400 ml or 13.5 oz (or use half coconut milk & half vegetable broth)
Vegetables I Used:
1 small eggplant, cubed
1 small red bell pepper, evenly cut
small head of broccoli or as many florets as desired
small bunch of fresh baby spinach
To Serve:
rice noodles or steamed white rice
Instructions
Heat the oil in a large pan or wok, once warm saute the onions until soft. Next add the ginger and garlic and cook for another 2-3 minutes. Add the eggplant, bell pepper and broccoli florets and saute for a few minutes. Next add the curry paste, turmeric, fish sauce, soy sauce and stir to mix all ingredients well. Allow to cook for 3 minutes then pour in the coconut milk and add the spinach. Cover and simmer under low heat until vegetables have cooked to desired tenderness. Serve over rice noodles or steamed Jasmine rice.
Notes
*I use my homemade curry paste, recipe can be found here: If you are using store bought start with a small amount then work up to your desired spiciness and taste. **I add the turmeric for color and additional nutritional value, but feel to omit if you like.*** Please notice that using fish oil means this recipe is not vegetarian. To make the curry vegan/vegetarian omit the fish sauce or replace with vegan fish sauce.
More
Fishpeople Albacore Tuna in Thai Coconut Lemongrass, 7 Ounce


Grocery (Fishpeople)




Heat in boiling water for 3 minutes or microwave for 1 minute and serve over rice, noodles or steamed veggies
Tasty, young Albacore freshly poached in coconut milk and hints of lemongrass and lime leaf
Store in your pantry; does not need to be refrigerated or frozen
Contains naturally occurring Omega-3s, 16 grams of protein, 260 calories
Gluten-free, dairy-free, BPA free