Sweet Recipes Using coconut milk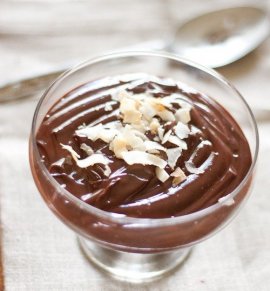 I've made a dangerous discovery this week. A discovery that involves heating up a can of coconut milk with a handful of really good chocolate and a little vanilla (and a few other ingredients) and creating the silkiest, dreamiest pudding you may have ever tasted.
Although usually quite easy, puddings can sometimes be tricky. There's nothing worse than a lumpy or grainy pudding, or a pudding that simply doesn't taste like much. You won't find any of those things here. I used coconut milk as a base because it is so creamy and imparts just a hint of coconut flavor without overpowering the chocolate. I was tempted to use a little coconut extract, but was ultimately worried that it would start to taste artificial and too intensely of coconut. As it stands now, it is the perfect combination of rich chocolate flavor and coconut. I think you're going to like it.
I almost always add a little espresso powder to dark chocolate desserts because it adds a deeper complexity and draws out those darker cocoa notes. If you don't have espresso powder at home, it's completely optional. As with many desserts where the chocolate is really the star, use the best quality you can find or afford. I use Valrhona cocoa powder, which I know is a splurge, and Scharffen Berger semi-sweet chocolate chips because I think they melt beautifully.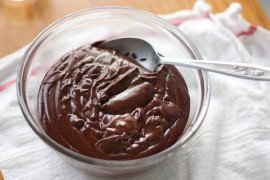 Chocolate Coconut Pudding
Serves 4
1 14-ounce can of coconut milk, divided
1/4 cup sugar
1/2 teaspoon salt
3 tablespoons cornstarch
3 tablespoons cocoa powder
1/2 teaspoon espresso powder, optional
5 ounces 62% semisweet chocolate, coarsely chopped (I use Scharffen Berger)
1 teaspoons vanilla extract
1/4 cup coconut flakes, toasted, to garnish
Shake the can of coconut milk as it can settle. In a medium-sized saucepan, bring half the can of coconut milk, sugar, and salt to a simmer over low heat. Don't allow it to boil fully.
In a separate small bowl, whisk together the remaining coconut milk, cornstarch, cocoa powder, and espresso powder.
Slowly add the cornstarch mixture to the hot pan of coconut milk, whisking vigorously. Keep whisking on low heat until the pudding almost reaches a simmer once again and begins to thicken, about 2 minutes.
Remove the saucepan from heat. Whisk in the chocolate and vanilla. Keep stirring until the chocolate melts into the pudding and the mixture is smooth and silky.
Pour pudding in a separate bowl and place in the refrigerator to chill thoroughly, at least 2 hours. To prevent a skin from forming, press plastic wrap up against the surface of the pudding.
Serve with a dusting of toasted coconut flakes. If covered in an airtight container, pudding can be refrigerated for up to 4 days. It will firm up quite a bit once chilled; give it a good, firm stir before serving.
More
Goat's and Organic Coconut Milk Soap Bar-Large Aged 13 Oz . Limited Edition


Beauty (Naturalhandcrafted Soap Company)




Aged Limited Edition Goat s and Coconut Milk SoapGREAT GIFT Large Bar 13 Oz
Goats Milk and Coconut Soap Bar -Deeply moisturizing soft soap.
Our old-fashioned handcrafted handmade natural soaps are created in small batches using a variety of natural oils, butters & botanicals from the U.S to the Rain...
This company/small business was created with the idea to make soap the way it was made centuries ago..Artisan (one that produces something (as cheese or wine or...
handmade . Bathe your skin in luxury, Goat and Organic Coconut milk Soap was created to moisturize and smooth your skin to perfection! This soap is made with goats...
Popular Q&A
What is a recipe for sticky rice?
Japanese Sticky Rice recipe continued: Bring to a boil, turn the heat to low, and cover the pan with a tight-fitting lid. Simmer for about 15 minutes, or until the water has been absorbed and the rice is sticky and soft. Keep warm. soon!