Pork curry Recipes with coconut milk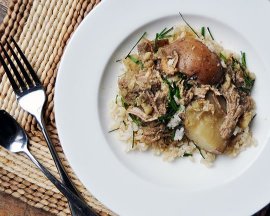 Want something spicy, hearty, and — above all — easy for dinner this week? Whip out your slow cooker and make this 5-ingredient (OK, 7, if you include salt and pepper!) green curry pork! It takes 15 minutes to set up, and will give you such tender, rich, and spicy pork curry.
The secret ingredient to this pork curry is Thai green curry paste. This is a staple in my cupboards. Fry a bit with coconut milk, add meat, and stew. Ta-da! Restaurant-style green curry. (My husband is always overjoyed when I make something with this magical little can of curry!)
But I had never used it in the slow cooker until now. But it really works — all that time in the slow cooker helps the spice paste infuse the meat and sauce, slowly, with its spicy, pungent flavor.
Look for Maesri curry paste; it can be found at nearly any Asian grocery store.
This curry gives you tender braised pork that can be eaten with a spoon, along with equally tender and creamy potatoes. The sauce itself isn't very thick; serve it with a ladle or big spoon, letting it soak into plenty of rice. The perfect meal for a cold winter's night!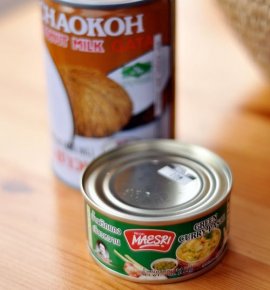 Slow Cooker Coconut & Green Curry Pork
serves 6 to 8
Between 2 and 3 pounds pork butt or pork shoulder
Kosher salt and freshly-ground black pepper
2 pounds small red potatoes, scrubbed and cut into sixths
1 tablespoon vegetable oil
1 4-ounce can Thai green curry paste, such as Maesri
1 15-ounce can coconut milk
Chopped cilantro or chives, to serve (optional)
Toasted unsweetened coconut, to serve (optional)
Heat the broiler. Cut the pork into four pieces and sprinkle liberally with salt and pepper. Place on a large baking sheet and broil, turning once, for 15 to 20 minutes or until well-browned.
Spread the cut potatoes in the insert of a slow cooker. Sprinkle them lightly with salt and pepper.
While the pork is browning in the oven, fry the curry paste. In a large skillet heat the vegetable oil over medium-high heat. When it is hot, add the curry paste and fry for about 3 to 5 minutes or until the paste smells aromatic and has begun to absorb the oil. Whisk in the coconut milk and cook for another few minutes, or until the coconut milk begins to bubble.
Take the browned pork out of the oven and drain away any liquid fat. Arrange the pork in the slow cooker with the potatoes, and pour the hot green curry and coconut milk mixture over it.
Cook for 6 to 8 hours on LOW. At the end of cooking shred the pork with two forks; it should be meltingly-tender. (Depending on how much fat is released from the pork, the curry sauce will not look thick and creamy; it will probably be thin.)
Taste and season if necessary with salt or soy sauce. Serve with brown rice, and small bowls of chopped cilantro or chives and toasted unsweetened coconut.
Related: Dinner for a Crowd: Slow-Cooked Hoisin and Ginger Pork Wraps with Peanut Slaw
More