Jamaican curry Chicken recipe coconut milk
Curried Chicken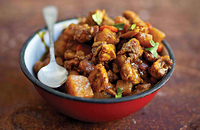 Bathed in fragrant curry- and ginger-infused coconut milk, this stew is a popular breakfast dish at Kingston cafés.
serves 6-8
Ingredients
4 lb. boneless, skinless chicken thighs, cut into 1 1⁄2″ pieces
1⁄4 cup fresh lime juice
2 tbsp. curry powder
1⁄4 cup coconut oil
Kosher salt and freshly ground black pepper, to taste
1 tsp. ground allspice
3 cloves garlic, finely chopped
3 scallions, finely chopped
3 sprigs thyme
2 carrots, thinly sliced
1 chayote squash, cut into 1⁄2″ cubes
1 russet potato, peeled and cut into 1⁄2″ cubes
1 (1″) piece ginger, minced
1 cup coconut milk
1 Scotch bonnet or habanero chile, slit in half lengthwise
Cooked white rice, for serving
Instructions
Combine chicken, lime juice, and 1 tbsp. curry powder in a large bowl, and toss to combine; refrigerate for at least 4 hours or up to overnight.
Heat oil in a 6-qt. Dutch oven over medium-high heat. Season chicken with salt and pepper, and working in batches, add to pot, and cook, stirring, until golden brown all over, about 8 minutes. Transfer chicken to bowl with marinade, and set aside. Add remaining curry powder, the allspice, garlic, scallions, thyme, carrots, chayote, potato, and ginger, and cook, stirring occasionally, until lightly caramelized, about 6 minutes. Add chicken and any remaining marinade to pot along with coconut milk and chile, and stir to combine. Cook, stirring occasionally, until chicken is cooked through and sauce is thickened, about 40 minutes; serve over rice.
More