Thai red curry sauce recipe coconut milk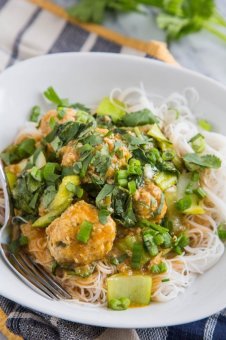 If you thought meatballs were reserved for spaghetti and marinara sauce, think again. This one-pot meal will change the way you see meatballs. The combination of lean and tender chicken meatballs and a spiced sauce, plus all the ingredients you love in Thai food — like warm curry, ginger, cilantro, basil, coconut milk, and more — bring big flavor to weeknight dinner.
When compared to fattier meats, like pork or beef, ground chicken can often result in dry or flavorless meatballs — but these Thai-inspired meatballs couldn't be further from that. Filled with garlic, ginger, and a smidgen of red Thai curry paste, these two-bite meatballs are packed with bright and intense flavors. A rich, warm coconut curry sauce and shower of fresh herbs bring it all together.
Read more: 5 Mistakes to Avoid When Making Meatballs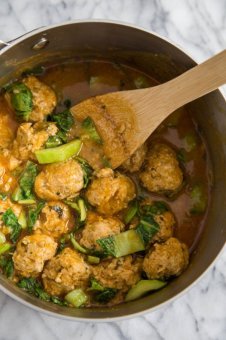 To keep this meal simple and weeknight-worthy, I cooked the meatballs directly in the sauce. Not only does it save you a few dishes, but it also ensures the meatballs stay juicy and tender while they stew in the lightly spiced coconut curry sauce.
Serves 2 to 4
1 pound ground chicken
4 scallions, sliced thin (both green and white segments)
4 cloves garlic, minced, divided
2 tablespoons grated fresh ginger, divided
3 tablespoons red Thai curry paste, divided
1/4 cup panko bread crumbs
1 tablespoon finely chopped fresh cilantro, plus more for serving
1 tablespoon finely chopped fresh basil
1 tablespoon canola oil
2 limes, zested and juiced
1 (15-ounce) can coconut milk
1 cup chicken stock
4 cups chopped spinach or baby bok choy
Salt
Fresh ground black pepper
In a large mixing bowl, combine the chicken, white parts of the scallions, 2 cloves of minced garlic, 1 tablespoon of grated ginger, 1 tablespoon of curry paste, panko, cilantro, basil, 1 teaspoon salt, and 1/2 teaspoon black pepper. Use your hands or a wooden spoon to thoroughly mix all the ingredients together until just combined. Try not to overwork the meat.
Spoon out a piece of the chicken mixture and gently roll between your hands to form 1 1/2-inch meatballs and place on a large plate or baking sheet. Continue shaping until all the meat is formed into meatballs. You will have about 16 meatballs.
Heat the oil in a medium saucepan over medium heat. Add the remaining garlic and ginger, stir to combine with the oil, and cook for about 30 seconds, until fragrant. Add the remaining curry paste, and cook for another 30 seconds, then stir in the lime zest, coconut milk, and chicken stock. Bring the sauce to a simmer.
Gently place the meatballs into the sauce. Cover and simmer for 30 to 35 minutes, until the meatballs are cooked through and an instant-read thermometer inserted into the center of the meatballs reads 165°F.
Stir in the spinach or baby bok choy and cook for another 2 to 3 minutes, until wilted. Remove the pan from the heat, stir in the lime juice, and add additional seasoning, as needed.
Recipe Notes
To store: Place meatballs and sauce in a covered container; store in the refrigerator for up to 3 days.
More
Popular Q&A
What is the recipe for stir fry with tofu and broccoli and coconut milk? MORE
Cooked. So start your rice cooking before beginning this recipe. HINT: Thai sticky rice cooks the fastest, Calrose rice takes about 35 minutes and brown rice takes 45 minutes to cook. If you decide to cook brown rice, start it at least a half MORE?
How many calories does the Coconut Milk Curry Thai Soup.
Thai Coconut Curry Soup has 189 calories, 10.8 grams of fat & 3.78 grams of protein.