Thai curry sauce recipe coconut milk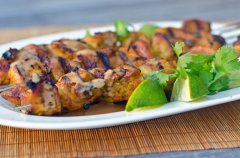 Stars based on 52 votes
This recipe was passed on to me by my dear friend, Kelly Santoro. She found it in the Costco magazine, of all places, but the recipe originally comes from food writer Alice Currah of the blog and book. The dish is a crowd pleaser for all ages. It's the sauce that makes it so good. My 10-year-old son, upon taking a second helping of the broccoli I served alongside, answered my surprised look with, "Mom, this sauce would make anything taste good." I have to agree: I was tempted to forget the chicken entirely and just have the sauce as soup!
Most of the ingredients for these chicken skewers are pretty straightforward. If you're not familiar with red curry paste, it's a delicious blend of lemongrass, Thai ginger, fresh red chilis and fragrant spices. Most large supermarkets carry it in the Asian food section but if you don't see it, be sure to ask; for whatever reason, my local market does not shelve it near the other Thai ingredients, but rather in a special Thai food display elsewhere in the store. Otherwise, you can always find it at Whole Foods.
Begin by pounding the chicken breasts to an even 1/2-inch thickness. This both tenderizes the meat and ensures it cooks evenly.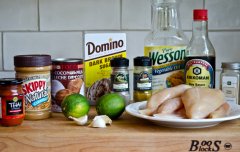 Next, make the marinade by combining the soy sauce, brown sugar, lime zest, vegetable oil, garlic, curry powder, ginger, cardamom and salt in a bowl.
Cut the chicken into chunks and combine it with the marinade. Cover and let marinate for at least 4 hours or overnight.
Meanwhile, make the sauce by combining the coconut milk, peanut butter, dark brown sugar, soy sauce and red curry paste in a medium saucepan.
Bring the sauce to a boil, then turn the heat down and cook a few minutes more. Finish the sauce with freshly squeezed lime juice.
Once the chicken has marinated, thread the chunks onto skewers.
Preheat the grill to medium-high heat. To grease the grill, lightly dip a wad of paper towels in vegetable oil and, using tongs, rub the paper towels over the grates until smooth and shiny.
Grill the chicken about 5 minutes per side, or until cooked through.
Serve with the coconut peanut sauce and enjoy! If you have leftovers, try serving the chicken over a salad — the chilled sauce makes an excellent dressing.
Note: I made several changes to the original recipe. For starters, I added a bit of salt and extra garlic to the marinade, and also swapped lime juice for lime zest as I do not like to use acidic ingredients in marinades for boneless skinless chicken breasts (they are so lean, it almost cooks the exterior of the meat and creates a leathery texture). I also pounded the chicken breasts first to tenderize them. To the sauce, I added more red curry paste and lots of fresh lime juice to brighten the flavor — otherwise, it was just too rich for my taste. To see the original recipe, click .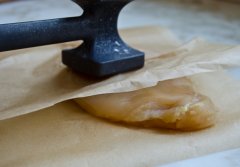 By
For the Chicken
1/4 cup soy sauce
3 tablespoons dark brown sugar, packed
Zest of one lime
2 tablespoons vegetable oil
3 garlic cloves, minced
1 tablespoon curry powder
1/2 teaspoon ground ginger
1/4 teaspoon ground cardamom
1/2 teaspoon salt
2-1/2 - 3 pounds boneless, skinless chicken breasts
For the Coconut-Peanut Sauce
1 (13-oz) can coconut milk (do not use low fat)
1/4 cup peanut butter
1/3 cup dark brown sugar, packed
1-1/2 tablespoons soy sauce
1 tablespoon red curry paste
3 tablespoons fresh lime juice, from 2 limes
For Serving
1 lime, cut into wedges (optional)
Instructions
Pound the chicken breasts to an even 1/2-inch thickness between two pieces of wax or parchment paper. Cut the breasts into 1-1/2" pieces and set aside.
Make the marinade by combining the soy sauce, dark brown sugar, lime zest, vegetable oil, garlic, curry powder, ginger, cardamom and salt in a large bowl. Add the chicken pieces to the bowl and mix until chicken is evenly coated. Cover the bowl with plastic wrap and marinate in the refrigerator for at least 4 hours or overnight.
Make the sauce by whisking together the coconut milk, peanut butter, brown sugar, soy sauce and red curry paste in a medium saucepan. Bring to a simmer, then cook over medium heat, stirring occasionally, for about 3 minutes. Add the fresh lime juice. Set aside.
Preheat the grill to high heat. Meanwhile, thread the chicken pieces onto skewers. Grease the grill. Place the skewers on the grill and cook for about 10 minutes, turning once, or until the chicken is cooked through. Serve the chicken skewers with the Coconut-Peanut Sauce and lime wedges, if desired.
Nutrition Information
Calories: 547
Fat: 29 g
Saturated fat: 14 g
Carbohydrates: 21 g
Sugar: 14 g
Fiber: 2 g
Protein: 52 g
Sodium: 1106 mg
Cholesterol: 152 mg
Subscribe to my free weekly newsletter — where I share new recipes and seasonal menus for every occasion.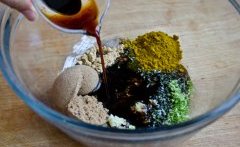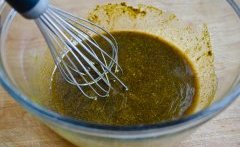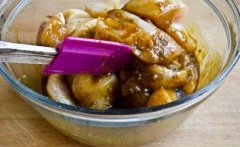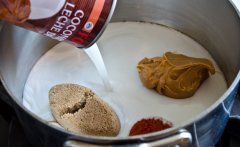 More
Popular Q&A
What is a recipe for sticky rice?
Japanese Sticky Rice recipe continued: Bring to a boil, turn the heat to low, and cover the pan with a tight-fitting lid. Simmer for about 15 minutes, or until the water has been absorbed and the rice is sticky and soft. Keep warm. soon!