Breakfast Recipes with coconut milk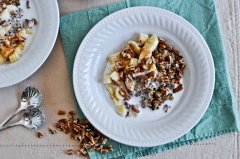 There is a time and a place for breakfast quinoa.
Did you know that you can make a gin and tonic cake? Because I didn't. Until last night, when I ate some, and it tasted EXACTLY like a gin and tonic. And it had gin in it. And it's sort of all I can think about right now (probably because of the gin) but instead I'm eating quinoa.
Could my life be any more boring? I wish I was eating and drinking gin for breakfast.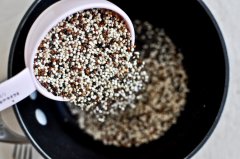 But alas… I am not.
After eating eggs (poached, fried, scrambled, hard-boiled – you name it) every morning for MONTHS, I'm moving on. Well, actually I'm now eating the eggs (poached, fried, scrambled, hard-boiled – you name it) for lunch, but whatev. New breakfasts = something to wake up for.
A few weeks ago I came home from a morning workout and was craving cereal like a mad woman. We didn't have any cereal and while I have no problem venturing to the grocery store six times a day (it's the only sort of life I have), I needed food NOW. Or then. Whatever. I just wanted some sort of stuff sitting in a bowl of milk that had some crunch.
I made quinoa cooked in coconut milk, added a ton of vanilla and cinnamon, then covered it in fruit and almonds. I was completely fanatic about the texture, but not only that: it kept me full FOR-EV-ER. Like forever, Sandlot style. Since then, I've been making obsessive combinations of assorted fruit and nuts, and this is currently my favorite. Toasted pecans, chopped bananas and heaven. It's all in that bowl down there.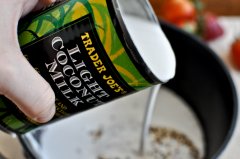 I mean, it's not gin… but it works.
Coconut Milk Breakfast Quinoa
serves 2
1/2 cup dry quinoa, rinsed
3/4 cup canned lite coconut milk + more for drizzling
2 teaspoons vanilla extract
1/2 teaspoon cinnamon + more for sprinkling
pinch of salt
1 banana, chopped
1/3 cup toasted pecans, chopped
Combine quinoa, coconut milk, cinnamon and vanilla in a small saucepan and bring to a boil. Reduce to a simmer, cover, and let cook for 15 minutes until quinoa can be fluffed with a fork.
Divide quinoa into two bowls then cover with bananas, pecans, and a few extra drizzles of coconut milk.
Note: you can definitely use full-fat coconut milk… I use Trader Joe's lite coconut milk which is insanely creamy and resembles full-fat coconut milk. If I used another brand, I'd probably use full-fat. Additionally, feel free to add sugar or sweetener if needed. I (shockingly) find it sweet enough with the coconut milk and fruit.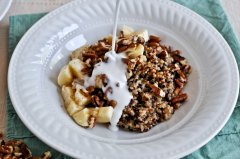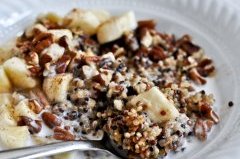 More
Coconut Milk Recipes, Paleo Coconut Oil & Flour Recipes. Low Carb Paleo, Allergy Free, Dairy Free and Gluten Free Recipes (Paleo Recipes: Paleo Recipes ... Dinner & Desserts Recipe Book Book 3)
eBooks