Dairy Free cake Recipes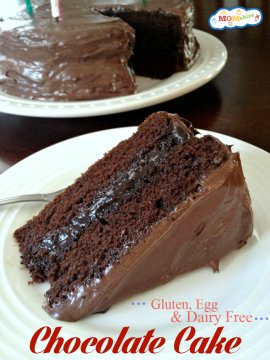 Are you frustrated at the lack of allergy-friendly cake options? I know I was.
I've had to create a lot of recipes to replace some of the classics that my daughter was used to eating before her diagnosis. I was thrilled when Laura, the Chief Mom, shared her gluten-free chocolate cake recipe with me.
You know that MOMables makes the best school lunch menus, right? With foods that kids will actually eat. As a mom, Laura is also concerned with all the other things that kids eat at home, school, and on-the-go. This includes simple treats such as this one, one of the things kids seem to miss the most when celebrating birthdays.
For food-allergy parents, it can also be scary or disheartening. Parties, sweets, treats. We can't just run to the local grocery store and pick up any cake from the case. It's not safe.
So we're forced to shell out the big bucks at a specialty bakery that caters to allergy-free needs or come up with a yummy recipe of our own. Don't worry—MOMables has you covered!
My daughter is in love with this cake. So much so, she threw a birthday party for one of her dolls just so we could make it and even blow out candles. I'm a sucker for that girl, what can I say!?
Gluten-, dairy-, egg-, and nut-free, but not free from taste! It's moist. It's rich. It's delicious! It will cure those chocolate cravings, too.
We've even included a yummy frosting recipe to go with it. Just add when cooled, and decorate to your needs!
A few recipe notes:
The vinegar cannot be substituted unless it's replaced with another acid. It's necessary to help the cake rise after it reacts with the baking soda. You'll notice after you pour the milk/vinegar mixture into the dry ingredients that it will make a fizzing sound—don't worry! That's good! It means it's working. If yours doesn't fizz, that probably means your baking soda has gone bad, and you won't get the rise you're looking for. If you don't have apple cider vinegar, you can use white vinegar instead.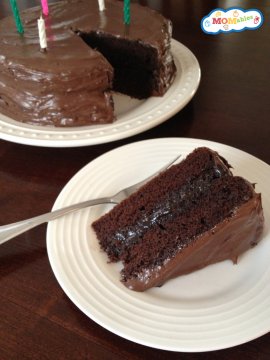 The batter is quite runny but not liquid. You should feel that it has some volume to it.
The unsweetened cocoa powder is also important to use and not Dutch-pressed, in this case. Unsweetened cocoa powder in its natural state acts as an acid and will also react to the baking soda, creating a leavening action that will also help your cakes to rise properly when baked.
Author: MOMables
Cuisine: Baking
Serves: 2 9-inch round cake pans/ 1 birthday cake.
Ingredients
Cake:
1¾ cups granulated sugar
6 tablespoons unsweetened cocoa powder
2 teaspoons baking soda
1 teaspoon salt
2 cups chocolate nondairy milk
½ cup vegetable oil
2 tablespoons apple cider vinegar
Frosting:
½ cup nondairy spread or butter
2 teaspoons vanilla
½ cup unsweetened cocoa powder
3 cups powdered sugar
½ cup coconut milk or nondairy creamer
Instructions
Preheat the oven to 350F. Coat two 9-inch cake pans with cooking spray and set aside.
In a large bowl, combine the flour, sugar, cocoa powder, baking soda, xanthan gum, and salt, and blend.
In a medium bowl, combine the milk, oil, vinegar, and vanilla.
Pour the wet ingredients into the dry ingredients. Stir until smooth, scraping the bottom and sides of the bowl.
Pour into greased cake pans, and place in the oven.
Bake for 25 to 30 minutes, or until a toothpick inserted into the center comes out clean.
Remove from the oven, and let them cool for 5 minutes, then move them to a wire rack to cool completely.
While the cakes are cooling, make the frosting. (I did mine in my food processor, but you can also make it in a large bowl with an electric mixer.)
Beat the butter until light and fluffy.
Add the vanilla, cocoa powder, and powdered sugar.
Add the coconut milk or creamer slowly until it's completely mixed.
If the frosting is too thick, add more creamer 1 tablespoon at time. If it's too runny, add more powdered sugar 1 tablespoon at a time.
More