Dairy milk cake recipe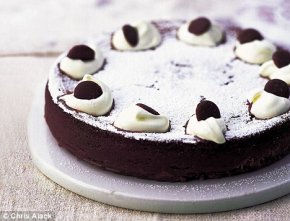 Makes 1 x 20cm cake to serve 6-8
butter for the tin
2 medium eggs plus 2 extra yolks
100g golden caster sugar
450ml whipping cream
300g milk chocolate broken up
1 tsp vanilla extract
2 tbsp plain flour
icing sugar for dusting
crème fraîche and chocolate buttons to serve
Have ready a 20cm cake tin about 4cm deep. Because the cake mixture is quite runny, ideally use a solid tin or one with a tight seal. If using a loose-bottom tin, line it well with foil to prevent leaking.
Preheat the oven to 140C/120C fan/275F/gas 1. Butter the tin.
Whiz the eggs, yolks and sugar together in a food processor for about 8 minutes or until very pale, almost white, and at least doubled in volume.

At the same time, bring the cream to the boil in a small nonstick pan. Pour it over the chocolate in a bowl, leave for a minute or two and give it a stir, then repeat until completely melted. Whisk vigorously until smooth. Add the chocolate mixture and vanilla to the whisked egg and sugar mixture and whiz to blend, then sift over the flour and whiz again.

Pour the mixture into the prepared tin. Place the tin on a baking sheet (to catch any minor leaks) and bake for 60-70 minutes or until shrinking from the sides, and the mixture seems set when pressed. Gently run a knife around the top of the edge, leave to cool, then cover and chill for several hours or overnight.

Shortly before serving, run a knife around the cake and remove it from the tin. Dust with icing sugar and serve with spoonfuls of crème fraîche and chocolate buttons on top.
More
Popular Q&A
What are some dairy free cake recipes?
Basic yellow cake mix: makes 2, 8" cakes or 1 8" layer cake. Ingredients: 2-2/3c cake flour, 2t baking powder, 1/8t salt, 1c (2 sticks) dairy-free soy margarine slightly cooler than room temp, 2c & 2T granulated sugar, 1-½t vanilla extract, 4 large eggs, 1c unsweetened almond, soy or rice milk etc
Seeking Dairy-free Cake Recipe
I've made the below recipe twice for my son, who also has a dairy sensitivity, and it is SOOOO delicious, moist and rich and decadent. Everyone always raves about it. No ones knows it's dairy-free. I think this was originally a depression-era recipe. It doesn't even need any eggs. Try it, you won't be disappointed! I make it as a two-layer cake with raspberry jam in-between the layers and decorated with fresh raspberries on top.