Coconut milk cake recipe Easy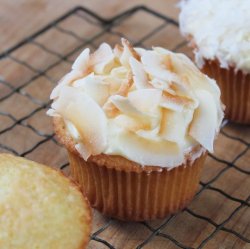 I adore birthdays. Not only my birthday but my sisters' birthdays, parents' birthdays, and my friends' birthdays, too. Heck, I even like strangers' birthdays! In the past I've been known to celebrate a little thing called Nealeygras, which is basically a week-long celebration of my birth. My boyfriend thinks this is incredibly narcissistic... I think it's just a good excuse to party.
A few years back I started a tradition of baking each of my friends and family a birthday cake of their request. It allows me to expand my repertoire, and it really goes a long way in the receiver's book. I mean, who doesn't like cake? (and in the small chance you don't, I will make cookies, puddings, and pies. I aim to please.)
Through all of my birthday cake baking research, I've found that what people really want is a plain and simple white cake (although frosting choices do seem to vary). A little boring in my opinion, but when done right it can be downright soul-satisfying. But a bad one, well, can be just plain bad.
I found my perfect white cake recipe on the back of the Swan's Down Cake Flour box. It is incredibly moist with a tender crumb, and always withstands the test of time. It's the little black dress of white cake! So when deciding to make a cupcake spin on the classic southern coconut cake, it seemed like a shoo-in for the base.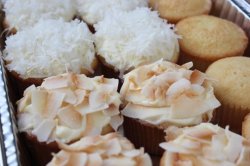 And you know what? It didn't steer me wrong.
And to add even more of a twist, I chose to frost the cupcakes two different ways. I topped half the cupcakes with a big pile of the more traditional sweetened shredded coconut. These sugary cakes aren't for the faint of heart, but us southerners have never feared the dentist. I topped the other half with toasted, unsweetened coconut flakes. These added a mild coconut flavor and a nice little crunch. Just a little more subtle if you ask me.
In the end I love them both equally... but I'll have to let you decide for yourself. Let me know and I just might make them for your next birthday!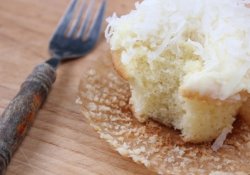 Coconut Milk Cupcakes with Coconut Frosting
makes 20 to 22 cupcakes
For the cupcakes
1 cup (2 sticks) unsalted butter, softened
2 cups sugar
4 large eggs
3 cups sifted cake flour
3 teaspoons baking powder
1/2 teaspoon salt
1 cup coconut milk
1 teaspoon coconut extract
1/2 teaspoon pure vanilla extract
For the frosting
1 (8 ounce) package cream cheese, softened
1/2 cup (1 stick) butter, softened
2 cups powdered sugar
1 tablespoon coconut extract
Shredded, sweetened coconut
Unsweetened coconut flakes, toasted
For the cupcakes, preheat the oven to 350°. Line standard sized muffin tins with cupcake liners.
In a large bowl or stand mixer, cream together butter and sugar until light and fluffy, about 2 – 3 minutes. Add eggs, one at a time, until batter is well combined.
Sift together the already sifted cake flour, baking powder, and salt. Add the flour mixture to the creamed butter alternately with the coconut milk until all the ingredients are thoroughly incorporated. Stir in coconut and vanilla extract.
Pour batter into cupcake liners no more than two-thirds of the way full. Bake for 25 - 28 minutes, until light golden brown and a toothpick comes out clean. Remove cupcakes to a wire rack and allow to cool completely before frosting.
More
Wedding Cake Recipes Free


Mobile Application (Smart Touch Casual)




In Wedding Cake Recipes Free you will find:
-Mango, white chocolate & coconut gateau
-Orange berry wedding cake
-Easy vanilla cake
and more delicious cakes!