Vitamix almond milk recipe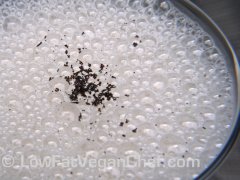 Almond milk is something that many people use nowadays, whether they are vegan or have dairy allergies. Sure you can buy some (non raw) almond milk at the store for your smoothies or cooking, but there's likely going to be sugar, preservatives and other additives and synthetic stuff in it as well. While it is convenient to use pre made almond milk, it's not a good idea to base your whole diet on processed packaged foods.
It's very easy to make at home, and most cost effective if you enjoy using almond pulp in recipes like raw bars, cookies, crackers, or drying it out to use for almond flour. This raw almond milk is great for using in raw smoothies, raw banana ice-cream and raw dressings.
This low fat almond milk is also a nice pretty white colour and not browny tinged from additives like processed almond milk! Beautiful.
Ingredients:
1 cup of whole shelled almonds
soaking water to cover almonds
4 cups filtered water (for making milk)
Required tools:
Container to soak almonds
Small metal mesh strainer/nut milk bag
Vitamix or blender
Directions:
1. Soak almonds in a bowl or container with enough water to cover and let sit overnight, around 8 hours.
2. Drain and rinse the almonds. Place into Vitamix or blender with 4 cups of filtered water. Blend for about 45 sec to a minute on high. Just until all the almonds are in tiny pieces and it's frothy.
3. Get out 3 medium bowls or containers. Hold your small metal mesh strainer or nut milk bag over one of the bowls and pour the almond mixture slowly into it. Fill up the strainer and then use a spoon to push the liquid down from the pulp. Place the extra pulp in one of the bowls if you want to save it for later. If you have a nut milk bag you'll want to hang it up above the bowl and let it drain. This will take a while. If using a metal strainer, keep filling it up with almond mixture and filtering the pulp from the milk with your spoon and set the pulp aside. Rinsing your strainer in between each filter will make it easier to strain and get rid of the little pieces stuck to it.
4. After you have filtered your almond milk once, you may want to filter the whole thing a few more times for a smooth milk. Place your filter over the last clean bowl and pour your filtered almond milk over it. You should see some froth and a little pulp being filtered out the second time. Rinse your other bowl and strainer and filter back and forth until your almond milk is smooth to your liking. I do this 6-8 times for the smoothest milk.
5. Once you're done you can store the almond milk in the fridge. Depending what you want to do with it you can leave it plain, or blend in a date and some vanilla for sweet almond milk.
I leave mine plain so I can use it for things like banana ice-cream, chia "tapioca" pudding, smoothie base, dressing base etc. I just add pitted dates or vanilla to the recipe if I need a sweet milk.
More
Pro Quality Nut Milk Bag - Big 12"X12" Commercial Grade - Reusable Almond Milk Bag & All Purpose Strainer - Fine Mesh Nylon Cheesecloth & Cold Brew Coffee Filter - Free Recipes & Videos
Kitchen (Ellie's Best)
The #1 TOP SELLING BIG 12X12 NUT MILK BAG! Smartly Designed in Response to Customer Requests for a Bigger Better Quality Bag Than the Small Egg-Shaped Ones, With...
PREFERRED BY CHEFS & NATURAL FOOD LOVERS FOR ITS SUPER STRONG CONSTRUCTION AND PULP FREE PERFORMANCE! It s Easier to Squeeze for Faster Results & You ll...
YOUR PRO QUALITY BAG COMES WITH A VALUABLE BONUS - A FREE RECIPE E-BOOK & HOW TO VIDEOS - OUR FAVORITE RECIPES INCLUDE UNIQUE AND YUMMY CHOCOLATE, STRAWBERRY...
Premium Quality - Nut Milk Bag - XL - 13 " X 13 " - Smoothie Strainer - Cold Brew Coffee Maker- Free Recipes Included - Reusable - Filter Bag - Professional Industry - Largest on Amazon
Kitchen (Zimtal)
The BIGGEST 13 x13 and most Durable Milk Bag on the market. You will love the extra large (largest on Amazon) size since it leaves plenty of room to squeeze out...
OVER 900 AMAZON 5-STAR REVIEWS - Amazon customers know better than anyone, our nut milk bag is the top 5-star reviewed and purchased nut milk bag for a reason. It...
SAVE MONEY AND TIME - Read through our over five hundred 5-star reviews and you ll see for yourself how many creative ways our customers use our nut milk bag: cold-brew...
FREE 2-DAY SHIPPING REPLACEMENT BAGS - If your nut milk bag tears, breaks, or wears out for any reason at all in the next 365 days, we ll send you a new FREE bag...
75 MICRONS PROFESSIONAL FOOD GRADE NYLON - America s leading raw food experts love the Zimtal Nut Milk Bags since it creates the now famous perfectly smooth nut...
Best Nut Milk Bag ~ Reusable 12" x 10" IDEAL SIZE - Fine Mesh Strainer for Almond Milk, Cold Brew Coffee, Juice & Yogurt. BONUS Recipe E-Book. Performs Better Than Cheaper Brands!


Kitchen




The smoothest, easiest to make, tastiest, preservative-free almond milk at home! Vita s 200 micron mesh strainer bags are the perfect replacement for messy cheesecloth...
Ideal size for nut milks, yogurt straining, green juices and filtering cold brew coffee. 12 x 10 is big enough for large batches of dairy-free nut milk without...
No tearing or leaking you get with cheap bags because of Vita s double stitched enforced seams.
Easy to clean seams and a rounded bottom mean no food particles get caught in the bag so your drinks are more hygienic and safe for the whole family.
Mold and residue resistant finely woven mesh is easy to air dry and

My Best Nut Milk Bag - 2 Pack Large (12"x12") & Medium (12"x9") Strong Reusable Almond Milk Bags - Commercial Food Grade Fine Nylon Mesh - Food Strainer & Cheese Maker Coffee & Tea Filter


Kitchen (AVROZ Home & Kitchen)




★★ NO WASTE, EASY TO CLEAN, PULP FREE & QUICK DRY MESH STRAINER ★★ Our nut milk bags are designed keeping in mind your kitchen needs ➜ We use round bottom or...
★★ TIRED OF CHEAP QUALITY NUT MILK BAG STRAINERS WHICH WILL RIP APART AFTER COUPLE OF USES ★★ LOOKING FOR BEST REUSABLE & DURABLE NUT MILK BAG IN THE MARKET...
★★ FITS ALL OF YOUR STRAINER, FILTERING & SPROUTING NEEDS ★★ 2 PACK TWO FINE NUT MILK BAGS 12 x12 (BIG) & 9 x12 (LARGE) INCLUDED FOR THE PRICE OF ONE ➜...
★★ ENJOY HEALTHY LIFE STYLE WITH OUR NUT MILK BAGS OR MESH STRAINER ★★ Promote healthy foods and drinks ➜ Instead of buying cheap commercial boxed brands of nut...
★★ RISK FREE 90 DAYS MONEY-BACK GUARANTEE ★★ We stand behind our premium quality nut milk bags or pro quality nut milk bag and will ensure you are a happy user ➜...

2 Large Nut Milk Bags - 12x12 & 10x12 Inches Reusable Strainer - 12"x12" & 10"x12" Almond Milk Hemp Bags Made From Food Grade Fine Nylon Mesh Strainer - White


Kitchen (NUDS Home & Kitchen)




➤ ➤ Better Quality & Cheaper Than $9 Top Seller Nut Milk Bags Available On Amazon Marketplace ➤ ➤ Get Rid Of Low Quality Cheap Nut Milk Bag Strainers Cheesecloth...
➤ ➤ Now You Can Also Enjoy Healthy Foods & Drinks Keeping Your Diet Under Control With NUDS Nut Milk Bag ➤ ➤ We Our Not Only Selling Nut Milk Bags Strainers...
➤ ➤ Reusable Easy To Clean, Dish Water Safe, & Quick Dry Nut Milk Bag ➤ ➤ Use It Again & Again ➤ ➤ NUDs nut milk bags are made by keeping our hard working...
➤ ➤ Our Promise Is Buy Once NUDs Nut Milk Bag & You Will Come Again And Again ➤ ➤ It will Fit Your Strainer, Nut Milk, Filtering And Sprouting Requirements Guaranteed...
➤ ➤ Use NUDS Milk Bags Hassle FREE ➤ ➤ We Stand Behind Our Product & Quality NUDs Milk Bags Come With 90 Days Full Money Back Guarantee ➤ ➤ We are here to back...