Using almond milk in Recipes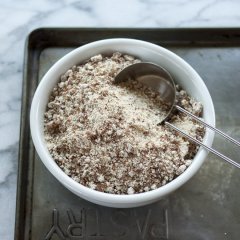 One thing about making your own almond milk is that you end up with a lot of leftover almond meal as a result. But even if you're not making almond milk, perhaps you bought a bag of almond flour on impulse that is now hanging out in your cupboard awaiting culinary inspiration. Wait no more! Here are five ideas for using up your stash of almond meal.
If your almond meal is leftover from making almond milk, you have two choices: use the wet almond paste within a few days, or dry it for longer storage. The paste can be thrown in smoothies, mixed into yogurt or oatmeal, baked with granola, or frozen into ice cubes for later.
Personally, I like to dry the almond meal — it makes it easier to store and I think dry almond meal is a lot more versatile. If you have a dehydrator, just spread the almond paste onto a tray and let the dehydrator run until it's dry. In an oven, spread the almond paste onto a parchment-lined baking sheet and bake at 200°F for a few hours until completely dry and crumbly, stirring occasionally. If your meal is gritty, you can blend it in a food processor or blender until fine and flour-like. Store at room temperature in an airtight container for a few weeks or in the freezer for up to three months.
Ok! Onto some ideas for using that almond meal! Here we go:
1. Fruit Crumbles: Summer is crumble season! I love the crunch and nuttiness that almond meal adds to fruit crumbles. Just work some sugar and butter into a cup or so of almond meal until it makes a thick paste. Crumble this over your fruit and bake until bubbly.
2. Cookies and Baked Goods: Cookies, scones, and mufffins made with almond meal will have a slightly denser and chewier texture than those made with all flour, but I'll take the trade off! Try subbing some almond meal for a quarter to half of the all-purpose flour in your favorite baking recipes. (Shaking the meal through a fine-meshed strainer before using it also helps remove any larger pieces and keep the flour light.)
3. Crust for Fish, Chicken, and Pork: Panko is so yesterday. Almond meal is where it's at when it comes to a crispy, crunchy crust. (Or even better, a mix of both!) Dip your piece of fish or other meat in beaten eggs, then roll in almond meal. Pan-fry until golden and perfect.
4. Homemade Crackers: Almond meal gives homemade crackers a tender texture and a nutty flavor — perfect for pairing with cheeses and dried fruits for an appetizer. Sub it in for up to half of the flour in your favorite cracker recipe.
5. Gluten-Free "Bread Crumbs" for Casseroles: If you're avoiding gluten and looking for a little crunch for your next gluten-free mac n' cheese or vegetable gratin, look no further. Toss with butter, sprinkle, and bake. Yum.
More
Pro Quality Nut Milk Bag - Big 12"X12" Commercial Grade - Reusable Almond Milk Bag & All Purpose Strainer - Fine Mesh Nylon Cheesecloth & Cold Brew Coffee Filter - Free Recipes & Videos
Kitchen (Ellie's Best)
The #1 TOP SELLING BIG 12X12 NUT MILK BAG! Smartly Designed in Response to Customer Requests for a Bigger Better Quality Bag Than the Small Egg-Shaped Ones, With...
PREFERRED BY CHEFS & NATURAL FOOD LOVERS FOR ITS SUPER STRONG CONSTRUCTION AND PULP FREE PERFORMANCE! It s Easier to Squeeze for Faster Results & You ll...
YOUR PRO QUALITY BAG COMES WITH A VALUABLE BONUS - A FREE RECIPE E-BOOK & HOW TO VIDEOS - OUR FAVORITE RECIPES INCLUDE UNIQUE AND YUMMY CHOCOLATE, STRAWBERRY...
My Best Nut Milk Bag - 2 Pack Large (12"x12") & Medium (12"x9") Strong Reusable Almond Milk Bags - Commercial Food Grade Fine Nylon Mesh - Food Strainer & Cheese Maker Coffee & Tea Filter


Kitchen (AVROZ Home & Kitchen)




★★ NO WASTE, EASY TO CLEAN, PULP FREE & QUICK DRY MESH STRAINER ★★ Our nut milk bags are designed keeping in mind your kitchen needs ➜ We use round bottom or...
★★ TIRED OF CHEAP QUALITY NUT MILK BAG STRAINERS WHICH WILL RIP APART AFTER COUPLE OF USES ★★ LOOKING FOR BEST REUSABLE & DURABLE NUT MILK BAG IN THE MARKET...
★★ FITS ALL OF YOUR STRAINER, FILTERING & SPROUTING NEEDS ★★ 2 PACK TWO FINE NUT MILK BAGS 12 x12 (BIG) & 9 x12 (LARGE) INCLUDED FOR THE PRICE OF ONE ➜...
★★ ENJOY HEALTHY LIFE STYLE WITH OUR NUT MILK BAGS OR MESH STRAINER ★★ Promote healthy foods and drinks ➜ Instead of buying cheap commercial boxed brands of nut...
★★ RISK FREE 90 DAYS MONEY-BACK GUARANTEE ★★ We stand behind our premium quality nut milk bags or pro quality nut milk bag and will ensure you are a happy user ➜...

2 Large Nut Milk Bags - 12x12 & 10x12 Inches Reusable Strainer - 12"x12" & 10"x12" Almond Milk Hemp Bags Made From Food Grade Fine Nylon Mesh Strainer - White


Kitchen (NUDS Home & Kitchen)




➤ ➤ Better Quality & Cheaper Than $9 Top Seller Nut Milk Bags Available On Amazon Marketplace ➤ ➤ Get Rid Of Low Quality Cheap Nut Milk Bag Strainers Cheesecloth...
➤ ➤ Now You Can Also Enjoy Healthy Foods & Drinks Keeping Your Diet Under Control With NUDS Nut Milk Bag ➤ ➤ We Our Not Only Selling Nut Milk Bags Strainers...
➤ ➤ Reusable Easy To Clean, Dish Water Safe, & Quick Dry Nut Milk Bag ➤ ➤ Use It Again & Again ➤ ➤ NUDs nut milk bags are made by keeping our hard working...
➤ ➤ Our Promise Is Buy Once NUDs Nut Milk Bag & You Will Come Again And Again ➤ ➤ It will Fit Your Strainer, Nut Milk, Filtering And Sprouting Requirements Guaranteed...
➤ ➤ Use NUDS Milk Bags Hassle FREE ➤ ➤ We Stand Behind Our Product & Quality NUDs Milk Bags Come With 90 Days Full Money Back Guarantee ➤ ➤ We are here to back...