Recipe for Homemade almond milk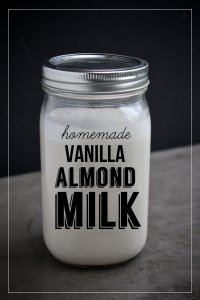 When I was little I was always so curious as to why my grandparents couldn't eat a lot of foods. I just thought you ate what you liked and that was that. Going out to dinner with my grandparents went something like this, "So, Grandma isn't eating meat tonight? So we can't have burgers? Wait. She already had meat this week? Now she's not eating dairy? It gave her indigestion last week?!"
And on and on…
FLASH FORWARD a few decades and I see what my grandma meant about the dairy. Oof. Getting older has meant there are certain things I have to start avoiding and milk is one of those things. Fortunately a little bit in my coffee doesn't slay me (thank GOD as I CANNOT put another milk in my coffee for the life of me). But I haven't really been able to eat a bowl of cereal with milk for a few years. Ice cream? Whew! Through the years I've grown an aversion to the taste of milk. Perhaps it's motherhood…and having to clean it up off the floor ALL THE TIME. Or maybe it's trauma from cleaning out that sippy cup that was left in my car for a month? I digress…
I've been making my own Vanilla Almond Milk for the past month and am LOVING IT. It's been a really great/easy addition to my Meal Prep for the week. I make one batch-sometimes two each week. And if I have a little leftover, I add it to Cooper's smoothies; it's a great base. It's light and slightly sweet. Sometimes I just drink it plain if I wanna little something something. I love it.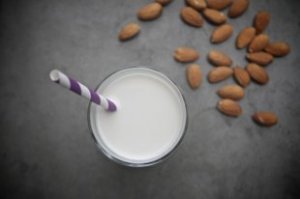 And we're off!
ALMONDS! You could do this to any nut. I'm a fan of cashew milk too.
Soak them. Overnight! I grab a huge mason jar and put the almonds in with enough water to cover them and then some.
ABS= Always Be Soaking. That's like the golden rule of being a hippie/vegan.
Now we get our lab going. It feels like science. Weird Science. (Rando Shutterbean Factoid: Weird Science was one of my favorite movies growing up. Anthony Michael Hall ALL THE WAY!).
We are going to use dates and vanilla extract to sweeten our milk. I soak the pitted dates for about 5 minutes in hot water to loosen them up a bit. No added sugar. If you want, you can add maple syrup or agave. Sometimes people don't like dates…
I use filtered water because my tap water is no good.
I suppose we should talk about the elephant in the room…NUT MILK BAG. Get yourself one! If you aren't ready to make a purchase because you do not yet know of the beauty of having nut milk in your fridge, you can use a fine mesh sieve. But then you can't break the ice at your next dinner party with your nut milk bag… It's up to you.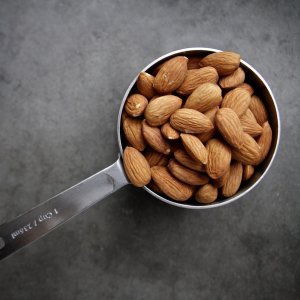 We start our blend! Add the rinsed/drained almonds and dates into your blender.
Top with vanilla. I use about 1 1/2 teaspoons for each batch. You could definitely use a vanilla bean pod. I've done it but I think it's kind of a waste. If we're straining the milk, you're going to strain out all of the beans and those suckers are costly.
And we blend! It doesn't take long at all. Just want to make sure there's no big chunks.
Now we strain.
Nut milk bag in action. Word from the wise!
Make sure you tie the bag closed before you do any squeezing.
Can you make silly putty out of it? That's what I want to know.
Now we pour it into a mason jar or a pitcher.
It's the key to my good (humblebrag) handwriting.
TADA.
We made vanilla almond milk. It wasn't that hard, RIGHT?!
Rut? Who is in a food rut? NOT ME.
If you love making your own milks too, you'll probably dig:
makes about 3 1/2 cups
1 cup almonds, soaked in water overnight
2-3 pitted dates
1 1/2 teaspoons pure vanilla extract
1 liter filtered water
Place almonds in a large jar or bowl and cover with enough water to cover them. Soak them overnight (8-12 hours).
When ready to make milk, put pitted dates into a small bowl and cover with hot water. Let sit for 5 minutes and discard water. Rinse and drain almonds and place into the blender along with the dates, vanilla and filtered water. Blend until well combined, about 1 minute.
Place nut milk bag over a large bowl. Slowly pour the blended milk into the bag and tie the top. Lift bag over the bowl and lightly squeeze the bottom of the bag to express the milk. Transfer filtered vanilla almond milk to a jar/pitcher and refrigerate. Milk keeps up to one week if stored properly.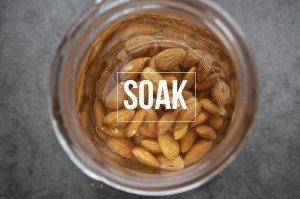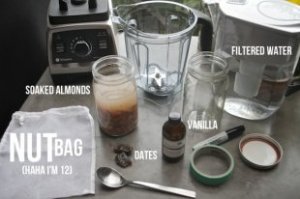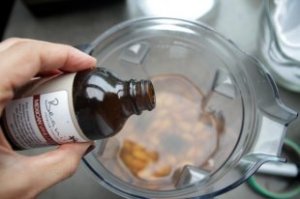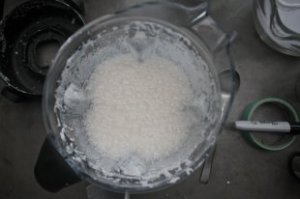 More
Best Nut Milk Bag ~ Reusable 12" x 10" IDEAL SIZE - Fine Mesh Strainer for Almond Milk, Cold Brew Coffee, Juice & Yogurt. BONUS Recipe E-Book. Performs Better Than Cheaper Brands!
Kitchen
The smoothest, easiest to make, tastiest, preservative-free almond milk at home! Vita s 200 micron mesh strainer bags are the perfect replacement for messy cheesecloth...
Ideal size for nut milks, yogurt straining, green juices and filtering cold brew coffee. 12 x 10 is big enough for large batches of dairy-free nut milk without...
No tearing or leaking you get with cheap bags because of Vita s double stitched enforced seams.
Easy to clean seams and a rounded bottom mean no food particles get caught in the bag so your drinks are more hygienic and safe for the whole family.
Mold and residue resistant finely woven mesh is easy to air dry and
Premium Quality - Nut Milk Bag - XL - 13 " X 13 " - Smoothie Strainer - Cold Brew Coffee Maker- Free Recipes Included - Reusable - Filter Bag - Professional Industry - Largest on Amazon


Kitchen (Zimtal)




The BIGGEST 13 x13 and most Durable Milk Bag on the market. You will love the extra large (largest on Amazon) size since it leaves plenty of room to squeeze out...
OVER 900 AMAZON 5-STAR REVIEWS - Amazon customers know better than anyone, our nut milk bag is the top 5-star reviewed and purchased nut milk bag for a reason. It...
SAVE MONEY AND TIME - Read through our over five hundred 5-star reviews and you ll see for yourself how many creative ways our customers use our nut milk bag: cold-brew...
FREE 2-DAY SHIPPING REPLACEMENT BAGS - If your nut milk bag tears, breaks, or wears out for any reason at all in the next 365 days, we ll send you a new FREE bag...
75 MICRONS PROFESSIONAL FOOD GRADE NYLON - America s leading raw food experts love the Zimtal Nut Milk Bags since it creates the now famous perfectly smooth nut...
Popular Q&A
what are the layers that occured in my homemade almond milk? | Yahoo Answers
Almond milk will often separate into its own curds and whey. The curds you can use to make almond yogurt. The dark layer could be due to the almond skins being left on before you grinded them to make milk. Almonds can be peeled after soaking so that you can make milk and with the remainder you can make almond cheese or yogurt spread if you like.