Dessert Recipes with almond milk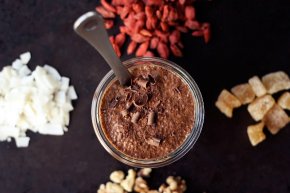 This post is part of our restricted diet series from Beth of .
There are few things in this world that I absolutely crave, but a good quality chocolate treat is definitely one.
With all the Valentine's Day chocolate recipes floating around the interweb, my chocolate cravings have been crazier than ever. After making some brownies last week, I decided it was time to come up with a creative and healthy chocolate recipe, to satisfy the cravings and give me some other goodness in the process.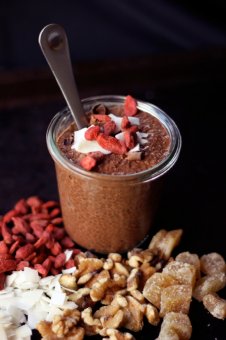 This simple to make raw cacao chocolate chia seed pudding is decadent while being totally good for you. That's a combination I can always get behind. Chia seeds have a high density of omega 3 fatty acids, they are high in protein, they are full of antioxidants and minerals, like calcium (surprisingly up to 3 times more than a serving of milk), and they are naturally anti-inflammatory. The consistency of a chia seed pudding is very similar to tapioca — gelatinous, thick, and creamy — and the seeds themselves produce a really great texture. This pudding is great as breakfast, a snack or dessert.
To really amp up the superfood qualities on this pudding, you can really have fun with the toppings or add-ins, see the suggestions below.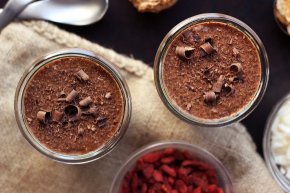 Chocolate Chia Seed Superfood Pudding – Gluten-free and Vegan
serves 2
1 1/4 cup unsweetened non-dairy milk ( or coconut are my personal favs)
1/4 cup chia seeds
3 tablespoons raw cacao powder (baking cocoa will also work)
Dash of pink Himalayan sea salt
1 tablespoon organic maple syrup or raw honey
Dark Chocolate shavings for garnish
Add all of the ingredients to a large glass jar with a lid, give it a quick stir, then put the lid on. Shake it like crazy to mix it all up. Refrigerate until very thick and pudding-like, at least 4 hours or overnight, shaking or stirring occasionally. Serve the pudding chilled with whatever topping you'd like. See my suggestions below.
Optional add ins/toppings: crystallized ginger, goji berries, nut butter, coconut, fresh citrus, bananas, nuts, pomegranate seeds, whipped coconut cream.
More