Crepes recipe with almond milk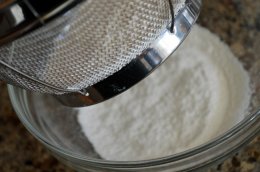 Vegetable Oil (to coat the pan, apply a light coating with a paper towel in between each crepe)
1 C All-Purpose Flour
½ tsp vegan Sugar
½ tsp Salt
½ tsp Baking Powder
1-1/4 C Almond Milk (do not use the light version)
2-1/2 Tbl Vegetable Oil
Sift the flour, baking powder and salt into a bowl to remove any lumps and lighten it.
Add the sugar and mix together until well combined.
In a separate bowl, mix together the almond milk and oil. Gradually add the wet mixture to the dry with a whisk until you get a very smooth batter. It should have the consistency of cream.
Lightly grease a medium skillet. Heat over medium heat until hot. Cooking one crepe at a time, pour about ¼ C of batter and tilt and swirl the pan to coat the entire bottom to form an even layer. Cook for about 1 minute, or until small bubbles appear all over the surface, and using a spatula or fingers, flip and cook the other side of the crepe until golden.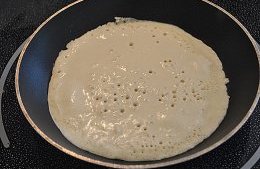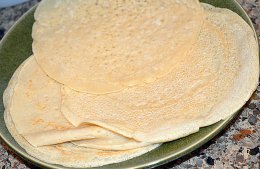 More
EuroWhipp Whisk - Whisks Creams and Froths - Easy-to-use Hand Held Whisk


Kitchen (Think Tank Products)




Whisks, creams, froths, and aerates
Quickly create creams, drinks, and sauces. Ebook with recipes sent by email
One push on the handle is equal to 40 hand movements with a regular whisk
Make whipped cream from skim or 2% milk, soy milk, coconut milk or any nut milk
Make whipped cream, salad dressings, sauces, souffles, mayonnaise, meringues, crepes, mousses, and frostings
Popular Q&A