Almond milk Iced coffee recipe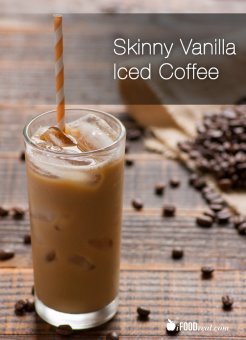 "Hello. I'm coffee. Nice to meet you. I'm Olena's newest addiction." Well, not that new but since the baby #2 sleepless nights "yeeees" and "yeeees" and "yeeees". Luckily those nights are gone and are NEVER coming back! Until those nights I never touched coffee, needless to say I would never create an iced coffee recipe.
Nowadays, I would be willing to brew fresh ground coffee every morning just to make my house smell like Starbucks or my Italian neighbours' house.
On a hot summer day, this glass below is my late afternoon sweet tooth craving = throwing out morning organic brewed coffee guilt = "Starbucks, are you really going to charge me $4 ?!" FIX.
For you, it's going to be either an "Aha!" or a "Duh?!" moment. Just because it's so darn embarrassingly simple that I don't even consider it to be a recipe. But after a few of my GFs tried this Skinny Vanilla Iced Coffee and had a total "Aha!" moment, I decided to post it just for you.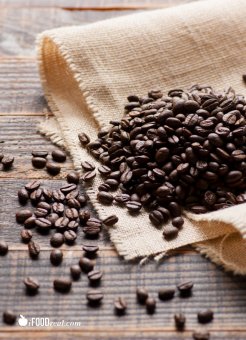 This ice cold glass is full of flavour and no guilt:
1. You are drinking only 1/2 cup of coffee out of 2 cups of liquid.
2. You are drinking healthy vegan, vegetarian and gluten free unsweetened almond milk.
3. You are drinking water from the melting ice.
4. You are drinking a yummy drink with no added refined sugar, duh?!
So, here they are… I can't stand almond milk in a hot coffee but in an iced coffee = LOVE.
P.S. Gave this mug to Alex as a Valentine's Day present 10 years ago and unofficially owned it since the same day.
Chill/store your coffee in the fridge for up to 2 days. My heart brakes to dump any coffee because it's organic and very expensive. So I refrigerate it or freeze in ice cube trays which BTW you can use for making this Skinny Vanilla Iced Coffeeeeeeeeeeeeeee.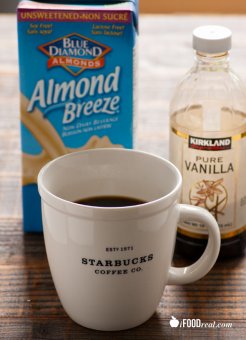 Or just use plain good old ice. Love my built-in ice fridge.
Mix all ingredients in the tall glass with a long spoon. And pour…
The coolest thing is that it's YOUR iced coffee!
1. Use skim milk, rice milk, soy milk or hemp milk.
2. Add or not add cinnamon, nutmeg or vanilla.
3. Skip or don't skip the sweetener part: pinch of stevia, teaspoon of agave or honey.
4. Last thing, change the ratio of coffee : milk. 50:50, 30:70 or whatever you want.
Enjoy this Skinny Vanilla Iced Coffee your way! Just don't add some condensed milk, won't be skinnyyyyyyyy anymore;)
Ingredients
1/2 - 1 cup ice
1/2 cup coffee, cold
1/2 cup vanilla almond milk, unsweetened
1 tsp pure vanilla extract
Pinch of stevia (optional)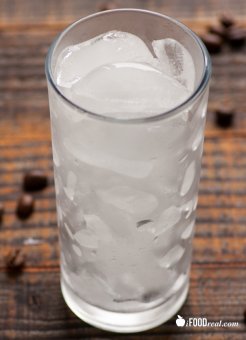 Directions
In a tall glass add ice. Pour coffee, almond milk and vanilla extract on top. Add a pinch of stevia, agave syrup if you wish. Stir with a long spoon and enjoy immediately.

Storing Instructions: Do not throw away "old" coffee. Refrigerate for up to 2 days and when ready combine all ingredients and make a Skinny Vanilla Iced Coffee.

You can also add cinnamon, nutmeg or cocoa powder.
3.1
The recipe and images are property and copyright of iFOODreal.com
Nutritional Info
Servings Per Recipe: 1 drink
Amount Per Serving:
Calories: 27.5
Total Fat: 1.3 g
Cholesterol: 0.0 mg
Sodium: 77.5 mg
Total Carbs: 1.0 g
Dietary Fiber: 0.5 g
Sugars: 0.5 g
Protein: 0.7 g
WW Points+: 0
This post may contain affiliate links. When you buy a product I make a small commission without any extra cost to you. In return, you can enjoy free recipes as well as savings on your favourite products. I also shared Clean Eating Ingredients I Buy and Kitchen Appliances +Tools I Use. Please buy local, organic and fair trade whenever feasible.
More
Premium Quality - Nut Milk Bag - XL - 13 " X 13 " - Smoothie Strainer - Cold Brew Coffee Maker- Free Recipes Included - Reusable - Filter Bag - Professional Industry - Largest on Amazon
Kitchen (Zimtal)
The BIGGEST 13 x13 and most Durable Milk Bag on the market. You will love the extra large (largest on Amazon) size since it leaves plenty of room to squeeze out...
OVER 900 AMAZON 5-STAR REVIEWS - Amazon customers know better than anyone, our nut milk bag is the top 5-star reviewed and purchased nut milk bag for a reason. It...
SAVE MONEY AND TIME - Read through our over five hundred 5-star reviews and you ll see for yourself how many creative ways our customers use our nut milk bag: cold-brew...
FREE 2-DAY SHIPPING REPLACEMENT BAGS - If your nut milk bag tears, breaks, or wears out for any reason at all in the next 365 days, we ll send you a new FREE bag...
75 MICRONS PROFESSIONAL FOOD GRADE NYLON - America s leading raw food experts love the Zimtal Nut Milk Bags since it creates the now famous perfectly smooth nut...
Finest Nut Milk Bag - Reusable Strong Almond Milk Bags - High Quality Fine Mesh All Purpose Strainer Bag, Nylon Cheesecloth Filter w/ Free Ebook Recipes - Cold Brew Coffee Filter - Reusable Almond Milk Bag
Kitchen
MOST VERSATILE, LONGEST LASTING & STRONGEST MILK BAG! Rose s Finest Biggest Best Nut Milk Bag serves as an almond milk, coconut milk and rice milk strainer bag...
SQUEEZE AS HARD AS YOU WANT, with its SUPER STRONG CONSTRUCTION, IT WON T STRETCH OR TEAR. Easily Hold Up to Daily Use - Eco Friendly with No Dyes or Chemical Additives...
GRADED 5 STARS BY CONSUMERS. ORGANIC NUT MILK BAG PREFERRED BY CHEFS AND NATURAL FOOD LOVERS! Become a Perfect Almond Milk Maker every time. COMES WITH FREE E-BOOK...
SATISFACTION GUARANTEED! We offer a MONEY BACK GUARANTEE so you can buy with peace of mind. If you re not 100% satisfied, you get your money back.
THE TRUE #1 NUT MILK BAG MADE OF THE BEST FOOD GRADE NYLON MESH! Far better than the egg-shaped bags, Rose s Finest Biggest Best Nut Milk Bag is perfectly designed...
Xcellent Global 1 Pack Nut Milk Bag 12" x 12" Reusable & Durable Almond Milk Bag 100% Nylon Perfect as Strainer, Filter Bag, Fine Mesh Strainer, Mesh Filter and Multi-purpose Kitchen Tool M-HG072


Kitchen (Xcellent Global)




Material: 100% Nylon, perfect food grade nylon mesh strainer for filtering juicing without a juicer
Durable, Sturdy and Reusable Bag for Homemade Organic Milk, Fruit Vegetable Juice, Sprouts, Greek Yogurt, Cold Brew Coffee and Tea
Easy to clean and quickly dry with the drawstring to hang it up anywhere in kitchen
Perfect size for any size container and convenient to squeeze with 12
Certificated by FDA and SGS

Traditional Kitchen Nut Milk Bag - Strainer & Cheesecloth Food Grade - Almond Milk, Yogurt and Juice Maker - Cold Brew Coffee Filter - Reusable bags - Fine Mesh Nylon - Perfect quality & size 12"x12"


Kitchen (Traditional Kitchen)




The TRADITIONAL KITCHEN perfect quality and size 12 X12 NUT MILK BAG! This REUSABLE nut milk bag is a MULTI-FUNCTION Kitchen Tool with dozens of uses, including...
THE CREATIVE WAY TO KEEP YOUR FAMILY HEALTHY AT HOME.It s EASIER to squeeze for you since it features a LARGE OPENING that leaves plenty of room to squeeze out the...
FREE RECIPE eBOOK MAILED TO YOU! PERFECT GIFT for FAMILY and FRIENDS!
BETTER THAN ANY CHEESECLOTH. Fast drying and mold free with nylon drawstring. The perfect shape for pouring without spilling, smartly designed with a large opening...

Organic Hemp Nut Milk Bag - Extra Large 12"x12" - Reusable All Purpose Strainer Bag - 100% Natural, No Harmful Chemicals - Free E Book of Nut Milk Recipes and Tips...


Kitchen (Eco Essence)




WHY HEMP because it is Anti-ROT, Anti-MOLD and Anti-STATIC. Hemp can restrain microbes and bowel bacillus - Anti bacterial properties of hemp fibers prevent mold...
FREE - E Book with all the info you will need such as recipes for almond milk, cashew milk, juices, chesses, sprouts, teas, and more. Also explains cleaning, and...
LARGE 12x12- This amazing nut milk bag as the stitching on the outside to make for super easy cleaning by not getting pulp stuck in the corners like non-rounded...
PREFERRED BY -Natural food lovers, home cooks and even chefs. This is an all natural organic nut milk bag, made of 100% Organic Unbleached Hemp for the bag portion...
NO CHEMICAL - NO GLUE - UNBLEACHED MATERAL- No risk of hormone dysfunctions, or breast cancer like nylon. Absolutely no plastic or other chemicals shedding into...