Almond milk coffee recipe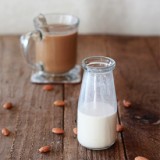 How to Make Almond Milk Coffee Creamer
Rich and creamy vegan, non-dairy coffee creamer – made with almonds! It's so easy to make at home. Here are step-by-step instructions and photos.
Fact: I need cream in my coffee. I cannot drink it black. For the most part, I find plain black coffee vile, watery, and bitter. But a nice splash of half-and-half transforms it into a creamy, warm, soothing, comforting elixir of the gods.
So yeah. I need my cream. But my thighs do not need it. And so that's why we're here. That's why I figured out how to make almond milk coffee creamer, a healthier, non-dairy alternative to half-and-half. And I'm so excited about it, now I'm going to share with you!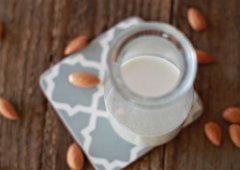 Have you ever made almond milk? It's shockingly easy! You soak the almonds in water. And then you puree the soaked almonds with fresh water. And then you strain the mixture. And you've got almond milk! And it seriously tastes incredible.
I make a couple of tweaks to the standard almond-milk-making process for this super-rich almond milk creamer. First, I soak the nuts for the maximum amount of time – 48 hours, changing out the water every 12 hours to keep things fresh. The longer you can soak the nuts, the creamier the outcome. More than 48 hours, though, and things could get funky (or go bad). So no more than that, please!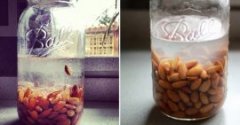 And then I puree the almonds with a little less water than I would if I was making standard almond milk. The result is a thick, rich consistency that works perfectly as coffee creamer.
Ready to make some of this rich, creamy, non-dairy and vegan creamer? Let's break it down.
Step 1: Soak
Place 1 cup of raw almonds in a clean mason jar or other container with an airtight lid. Cover with 2 cups of water. Seal and let sit on the kitchen counter for 48 hours (but no longer)! Change out the water at least every 12 hours. These side-by-side photos show the dry almonds at the beginning of the process, and the super-plump almonds after the 48 hours. Oh, and I actually had doubled the recipe for this batch, so if you're thinking you see more almonds in the photo than what I'm actually suggesting, you're not losing your mind. I'm just a dork.
Step 2: Puree
Drain off the soaking water and rinse the almonds. Add the soaked almonds to a food processor or blender along with 1 1/2 cups of water. Pulse/puree until the almonds are pulverized and the mixture is white – about 30 seconds or so. Look! There's your milk!
Step 3: Strain
This is where one special kitchen prop is important: a nut milk bag. Trust me, I've tried this with cheesecloth and it just doesn't work the same. I have this nut milk bag with a rounded bottom and I looove the thing.
Place the nut milk bag inside a bowl and then pour the pureed almond mixture into the bag. With super-clean hands, lift the bag and squeeze the dickens out of it to get every last bit of milk out.
I am so sorry that I just used "nut milk bag" and "dickens" in the same paragraph. It just happened.
Anyway, lift the bag and squeeze, squeeze, squeeze with your hands until you get every last bit of milk out.
I couldn't squeeze because I was using one hand to lift the bag and the other to snap photos, but I'm sure you get the gist.
But back to the bowl. You have a thick, creamy almond milk!
Step 4: Add a Little Flavor
That's right – spice it up! But just a tad.
This is where I add the teensiest bit of sweetness via pure maple syrup, and a touch of flavor with a little vanilla extract and a touch of salt.




Related facts:
If you contact an auto transport company, you can learn how much does it cost to ship a car. Just note that price of shipping is influenced by numerous factors, including the status of a company, its reputation, and experience. That is why choosing the lowest price is not always a good idea, as usually, such prices do not include some fees associated with the shipment. Quite often, such fees are included in the quote but still have to be paid.
More
Best Nut Milk Bag ~ Reusable 12" x 10" IDEAL SIZE - Fine Mesh Strainer for Almond Milk, Cold Brew Coffee, Juice & Yogurt. BONUS Recipe E-Book. Performs Better Than Cheaper Brands!
Kitchen
The smoothest, easiest to make, tastiest, preservative-free almond milk at home! Vita s 200 micron mesh strainer bags are the perfect replacement for messy cheesecloth...
Ideal size for nut milks, yogurt straining, green juices and filtering cold brew coffee. 12 x 10 is big enough for large batches of dairy-free nut milk without...
No tearing or leaking you get with cheap bags because of Vita s double stitched enforced seams.
Easy to clean seams and a rounded bottom mean no food particles get caught in the bag so your drinks are more hygienic and safe for the whole family.
Mold and residue resistant finely woven mesh is easy to air dry and
Pro Quality Nut Milk Bag - Big 12"X12" Commercial Grade - Reusable Almond Milk Bag & All Purpose Strainer - Fine Mesh Nylon Cheesecloth & Cold Brew Coffee Filter - Free Recipes & Videos
Kitchen (Ellie's Best)
The #1 TOP SELLING BIG 12X12 NUT MILK BAG! Smartly Designed in Response to Customer Requests for a Bigger Better Quality Bag Than the Small Egg-Shaped Ones, With...
PREFERRED BY CHEFS & NATURAL FOOD LOVERS FOR ITS SUPER STRONG CONSTRUCTION AND PULP FREE PERFORMANCE! It s Easier to Squeeze for Faster Results & You ll...
YOUR PRO QUALITY BAG COMES WITH A VALUABLE BONUS - A FREE RECIPE E-BOOK & HOW TO VIDEOS - OUR FAVORITE RECIPES INCLUDE UNIQUE AND YUMMY CHOCOLATE, STRAWBERRY...
Nut Milk Bag Large - Best Reusable 12"x12" Filter Strainer for Almond Milk, Juice, Cold Brew Coffee.. Bonus Tips and Recipes


Kitchen (HaveSome Goods)




TEAR Resistant - Best Premium quality nylon BPA Free with double reinforced stitching. It holds up really well despite squeezing hard. The tightly woven mesh delivers...
LARGE Size 12 X12 Rounded Bottom - Perfectly fits any size container and easy to squeeze. Much easier to use than a strainer and a breeze to clean.
MULTI-FUNCTION Kitchen Tool - Making nut and seed milks, vegetables milk, Vitamix juicing, sprouting, brewing coffee, tea and beer, herbal emulsions, tofu pressing...
INCREDIBLE Unconditional Lifetime Waranty - No Risk Money Back Guarantee, Plus FREE EBooks with healthy recipes and tips. Yes you will have recipe for almond pulp...
SPECIAL Discounts if you buy more than 1 at a time. Order Now! When you do consider getting 2One for you and one for your very best health-conscious friend; Or one...

Finest Nut Milk Bag - Reusable Strong Almond Milk Bags - High Quality Fine Mesh All Purpose Strainer Bag, Nylon Cheesecloth Filter w/ Free Ebook Recipes - Cold Brew Coffee Filter - Reusable Almond Milk Bag


Kitchen




MOST VERSATILE, LONGEST LASTING & STRONGEST MILK BAG! Rose s Finest Biggest Best Nut Milk Bag serves as an almond milk, coconut milk and rice milk strainer bag...
SQUEEZE AS HARD AS YOU WANT, with its SUPER STRONG CONSTRUCTION, IT WON T STRETCH OR TEAR. Easily Hold Up to Daily Use - Eco Friendly with No Dyes or Chemical Additives...
GRADED 5 STARS BY CONSUMERS. ORGANIC NUT MILK BAG PREFERRED BY CHEFS AND NATURAL FOOD LOVERS! Become a Perfect Almond Milk Maker every time. COMES WITH FREE E-BOOK...
SATISFACTION GUARANTEED! We offer a MONEY BACK GUARANTEE so you can buy with peace of mind. If you re not 100% satisfied, you get your money back.
THE TRUE #1 NUT MILK BAG MADE OF THE BEST FOOD GRADE NYLON MESH! Far better than the egg-shaped bags, Rose s Finest Biggest Best Nut Milk Bag is perfectly designed...

Premium Quality - Nut Milk Bag - XL - 13 " X 13 " - Smoothie Strainer - Cold Brew Coffee Maker- Free Recipes Included - Reusable - Filter Bag - Professional Industry - Largest on Amazon


Kitchen (Zimtal)




The BIGGEST 13 x13 and most Durable Milk Bag on the market. You will love the extra large (largest on Amazon) size since it leaves plenty of room to squeeze out...
OVER 900 AMAZON 5-STAR REVIEWS - Amazon customers know better than anyone, our nut milk bag is the top 5-star reviewed and purchased nut milk bag for a reason. It...
SAVE MONEY AND TIME - Read through our over five hundred 5-star reviews and you ll see for yourself how many creative ways our customers use our nut milk bag: cold-brew...
FREE 2-DAY SHIPPING REPLACEMENT BAGS - If your nut milk bag tears, breaks, or wears out for any reason at all in the next 365 days, we ll send you a new FREE bag...
75 MICRONS PROFESSIONAL FOOD GRADE NYLON - America s leading raw food experts love the Zimtal Nut Milk Bags since it creates the now famous perfectly smooth nut...
Popular Q&A