Recipe for Macaroons with sweetened condensed milk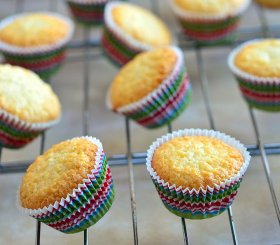 Coconut macaroons are readily available at most of our neighborhood supermarkets but although soft, chewy and equally wonderful, they are a little different from the Filipino coconut macaroons I grew up with which are more dense and sort of cake-like in texture. Fortunately, a friend of mine emailed me a PDF of recipes from the Center of Philippine Concerns which included one for macaroons. As I read through the list of ingredients, I knew it was the Filipino version I've been looking for. Sure enough, the addition of flour to the basic ingredients of sweetened condensed milk, butter, eggs and dessicated coconut resulted to a more authentic Filipino coconut macaroons. They are crisp and golden on the outside and moist and chewy in the inside. Just plain addicting! This recipe yields a good four dozens but trust me, they'll be gone before you know it.
Want more baking projects? You might want to try these goodies, too!
Ingredients
⅓ cup butter, softened
¾ cup sugar
2 eggs
1 can (14 ounces) sweetened condensed milk
½ teaspoon vanilla extract
½ cup flour
2 cups desiccated coconut
Instructions
In a bowl, cream butter using a hand mixer on low speed. Add sugar and beat together until well blended and fluffy. Add eggs one at time, beating continously. Add condensed milk and vanilla extract and continue to beat until blended.
In a medium bowl, combine flour and desiccated coconut. Add to egg mixture and beat until combined.
Low Carb Condensed Milk Mix (Sweetened) - LC Foods - All Natural - High Protein - Low Lactose - High Calcium - No Sugar - Diabetic Friendly - Low Carb Milk - 3.7 oz
Grocery (LC Foods Corporation)
Low Carb - All Natural - Gluten Free - No Sugar - Diabetic Friendly
All Natural Ingredients
Per 1.2 tsp: 0 Net Carbs
40 servings of approx. 2 Tbsp prepared condensed milk
Includes: 1 - 3.7 oz Mix