Low carb sweetened condensed milk recipe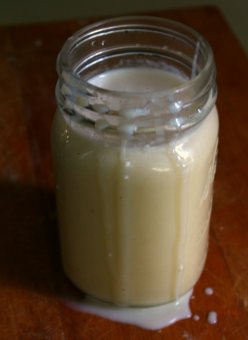 I actually have three recipes for low carb sweetened condensed milk but this is the one I prefer because it is also lower in fat and calories than the others. I'll post them at later times because they definitely have their place in your recipes.
This is made with nonfat powdered milk and is good for recipes that have a lot of other flavor. I use it in my low carb key lime pie, low carb lemon ice box pie, and those types of recipes — and yes I will be posting them. In fact, you'll want to make this as soon as possible because I am posting the key lime recipe tomorrow.
You can use any cup for cup measure sweetener you prefer. I used Xylitol because that's what was in the cupboard but you can use and Erythritol sweetener like Swerve or even a chemical like Splenda. I prefer not to use chemical sweeteners so I stick with the other two.
You can keep this in the refrigerator in a tightly covered glass canning jar for up to two weeks or freeze it for up to three months. That means you can pretty much always have low carb sweetened condensed milk on hand so that you can make a dessert anytime the craving hits. I have also been known to eat this by the spoonfuls when I am having one of those moments that if i don't get something delicious I am making a beeline for the candy bar aisle at the convenience store down the street.
Here's a word of warning. If you've never used xylitol then use it with caution and on a day you will be home. It can cause pretty severe digestive issues (to put it nicely) and you don't want to be stuck in traffic when it hits. I find that it affects me sometimes and not others. Swerve will not do this so if your tummy is fussy then use it instead.
My favorite key lime pie made with this low carb sweetened condensed milk.
This does not get as thick as the commercial kind or some of the other homemade kinds but it works very well in pies and cheesecakes, as well as over crushed ice for a creamy snow cone.
Nutrition Information
Prep time:
Total time:
An easy, homemade low carb sweetened condensed milk that you can use when adjusting your favorite dessert recipes. It keeps 2 weeks in the refrigerator and up to 3 months in the freezer.
Ingredients
2 cups nonfat dry milk
1 cup boiling water
1½ teaspoons vanilla
½ cup melted, unsalted butter (not margarine!)
Instructions
Put the dry milk and sweetener in the blender.
Blend for 30 seconds on high.
Add the boiling water, vanilla, and melted butter.
Blend on high for one minute.
Pour into a jar, cover tightly, and refrigerate overnight before using.
Notes
Sugars come for the lactose in the milk and the small amount of usable sugars in the xylitol ... and are listed for those who have had bariatric surgery. If you are just doing low carb you don't need to worry about that number.
More
Low Carb Condensed Milk Mix (Sweetened) - LC Foods - All Natural - High Protein - Low Lactose - High Calcium - No Sugar - Diabetic Friendly - Low Carb Milk - 3.7 oz
Grocery (LC Foods Corporation)
Low Carb - All Natural - Gluten Free - No Sugar - Diabetic Friendly
All Natural Ingredients
Per 1.2 tsp: 0 Net Carbs
40 servings of approx. 2 Tbsp prepared condensed milk
Includes: 1 - 3.7 oz Mix