Carnation milk pumpkin pie recipe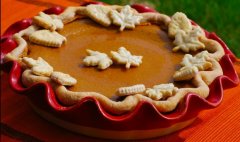 Want a new recipe for pumpkin pie that doesn't use evaporated milk or sweetened condensed milk? Don't worry, we've got you covered! Non-dairy substitution included, courtesy of Farmer's Market fan Maire.
Ingredients
1 can farmer's market pumpkin
1 cup firmly packed dark brown sugar
1 Tbs. cornstarch
1/2 tsp. salt
1 1/2 tsp. ground cinnamon
1/2 tsp. ground ginger
1/4 tsp. ground nutmeg
1/8 tsp. ground cloves
3 eggs
1/2 cup half and half
1/2 cup milk
1 deep dish pie crust
Directions
Preheat an oven to 375ºF.
In a bowl, whisk together the brown sugar, cornstarch, salt, cinnamon, ginger, nutmeg and cloves. Add the pumpkin, eggs, cream and milk and whisk to combine.
Pour the filling into the prebaked piecrust and bake until the center is set, 60 to 65 minutes, covering the edges of the crust with aluminum foil after 30 minutes if they brown too quickly.
Transfer the pie to a wire rack and let cool completely, at least 2 hours, before serving.
Non-dairy /vegan substitution courtesy of Maire:
Substitute a cup of thick rice milk (recipe below) in place of the dairy milk and half-and-half.
Put 1/4 cup white rice plus 3 cups water in a Dutch oven or similar large pot. Bring to a boil and stir once. Reduce to lowest heat and cover tightly. Simmer for 30 minutes, lifting cover for a moment if froth starts to boil over. Remove from heat and let cool for a few minutes. Transfer mixture to blender with enough extra water to equal 3 cups again. Puree on high speed for about one minute or until smooth.
More