Rice Pudding made with coconut milk Recipes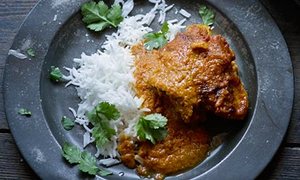 Hugh Fearnley-Whittingstall's baked chicken curry recipe: 'This big, hearty, rich curry is very easy.' Photograph: Colin Campbell for the Guardian
It's funny how things shoulder their way into your larder. First they make a small, quiet space for themselves, then they take up semi-permanent residence, and finally they claim indispensable status so that if you look for them and they're not there, you start to panic a bit. Last week I wrote about tinned tomatoes, something I really don't like to run out of, ever. This week I'm going for another tin that's massively useful in these chilly months. It's one I used to use only occasionally, wiping off the dust and checking the sell-by date to make sure it wasn't prehistoric. Now I turn to it much more often.
The more I use coconut milk, the more I enjoy it. It's such a great mingler. It's not domineering and over the top, but it's not meek and mild either. It comes to the party delicately sweet and subtly nutty, a little exotic, and encourages the other guests, which may be more local and more familiar, to show a bit more cheek and chutzpah than usual. I pop open a tin of this creamy liquor regularly, for curries, soups, dips and puds, and it's a key player when it comes to assembling leftovers into something new and delicious. It's a creamy, fragrant medium for vegetables and spices, meat, fish, pulses, nuts and herbs. In fact, there are very few ingredients that don't marry up intriguingly with coconut milk. Stilton, perhaps.
Coconut milk is made by adding water to pulverised coconut flesh and boiling it. (It's not to be confused with coconut water, which is the thin, clear fluid from the centre of the nut, or with coconut oil, which at cool room temperature is a hard white fat but melts easily to a clear free-flowing oil.) Some brands contain stabilisers or emulsifiers. Those that don't (including the organic varieties I favour) will often separate in the tin, forming a thick, or even solid, layer on top and a watery one beneath. To resolve this, all you need to do is stir them together or, if the top layer is solid, scrape the lot into a pan and heat it gently, stirring until recombined.
Coconut cream or creamed coconut is essentially the same thing as coconut milk, but with less water added. You can use coconut cream in a recipe if you can't get coconut milk, so long as you add more liquid to the dish as well.
There are a couple of things coconut milk may do, when cooked, that sometimes cause consternation – though they needn't. First, it may appear slightly grainy. This is simply a characteristic of the ingredient and nothing to worry about. It's important to remember that this is not "milk" at all and so won't behave like a dairy product. It's actually a suspension of very fine coconut solids in liquid, and sometimes you can detect that. Coconut milk will also, if it's boiled long enough, separate so that you get a layer of coconut oil on the surface of the dish. This, again, is normal and, in fact, an effect that's positively sought after in some Asian recipes, probably most famously here in the classic Indonesian rendang. You can always skim the oil off if it really bothers you.
Baked chicken curry
This big, hearty, rich curry is very easy – a lot of the chopping is done in a food processor. Serves six.
2 heaped tsp cumin seeds
2 heaped tsp coriander seeds
1 heaped tsp fennel seeds
2 tsp ground turmeric
2 tsp ground fenugreek
1 large onion, peeled and roughly chopped
3 large garlic cloves, peeled and roughly chopped
1 large green chilli, roughly chopped
1 thumb-sized piece of fresh ginger, peeled and roughly chopped
3-4 tbsp sunflower oil
1 chicken, jointed into 6 pieces (or 6 skin-on, bone-in chicken pieces weighing about 1.5kg in total)
Sea salt and freshly ground black pepper
400g tin tomatoes
400ml tin coconut milk
½ tsp caster sugar
Heat the oven to 180C/350F/gas mark 4. If you've got time, toast the cumin, coriander and fennel seeds in a dry frying pan for a minute or two, until fragrant. Grind the whole spices (toasted or otherwise) to a rough powder in a spice grinder or with a pestle and mortar, and mix with the turmeric and fenugreek.
Put the onion, garlic, chilli and ginger in a food processor or blender and blitz to a coarse paste, stopping to scrape down the sides a few times.
Heat two tablespoons of oil in a large frying pan over a medium-high heat. Add half the chicken pieces, season generously and brown all over, making sure you get the skin a good colour. Transfer skin-side up to a large roasting dish, and repeat with the remaining chicken pieces.
Lower the heat under the pan, add the spice mix, fry for a minute or two, then add the onion paste. Fry, stirring frequently, for five minutes, until the paste is soft, fragrant and reduced in volume. Add a little more oil if it seems to be sticking.
Tip the tomatoes and coconut milk into the food processor (no need to wash it out first) and blitz to combine. Pour into the pan and bring to a simmer, stirring constantly. Add a teaspoon of salt, a grinding of pepper and the sugar, then return the chicken pieces to the pan. Make sure they're all coated in the sauce, then push most of the sauce off the top of the chicken (if there's too much sauce sitting on them, the skin won't brown in the oven).
Bake, uncovered, for an hour, turning and basting it a couple of times, until the chicken is cooked through and nicely browned on top. Serve with lots of basmati rice to soak up the sauce.
Cambodian wedding day dip
500g cup or chestnut mushrooms (or a mix of both)
1 tbsp sunflower oil
½ small hot chilli, such as bird's eye, finely chopped, including the seeds
3 cloves garlic, peeled and crushed
1 tbsp curry powder or mild curry paste
2 tbsp crunchy peanut butter
400ml tin coconut milk
Soy sauce
Juice of ½ lime
Finely chopped coriander (optional)
Finely dice the mushrooms into 3-4mm pieces. (Alternatively, chop them in a food processor, but don't blitz them too fine.) Heat the oil in a wok or large frying pan over a high heat. Add the mushrooms and cook briskly, stirring often, until all the liquid they release has evaporated. Add the chilli and garlic, and fry for one minute more. Add the curry powder/paste and peanut butter, stir in thoroughly, then add the coconut milk. Let it all bubble rapidly, stirring occasionally to make sure it doesn't burn, until thick and reduced – up to half an hour – then add soy sauce and lime juice to taste.
Tip into a bowl, scatter with coriander (if using) and serve warm or at room temperature. Flatbreads – or, in fact, any decent bread – and fresh veg crudités make the perfect accompaniment.
Coconut rice pudding
Hugh Fearnley-Whittingstall's coconut
rice pudding recipe
: 'I like it with passion fruit pulp.' Photograph: Colin Campbell for the Guardian
Although made in essentially the same way as a traditional rice pud, a coconut one, served chilled, is quite a different experience – sweet, fragrant and surprisingly light. I like it with passion fruit pulp, but diced, lime-dressed mango or papaya are also delicious, as is a tart rhubarb compote. Serves four.
A little butter or sunflower oil, for greasing
80g pudding rice
65g caster sugar
400ml tin coconut milk
½ vanilla pod, cut in two
50ml double cream (optional)
Fruit, to serve (see above)
Lime juice, to serve
Heat the oven to 150C/300F/gas mark 2. Lightly grease a shallow ovenproof dish of around 1.5 litre capacity. Combine the rice, sugar and coconut milk in a large bowl. Refill the coconut tin with water, swirl around and add this, too. Stir well, then transfer to the prepared dish and add the vanilla pod. Bake for an hour and three-quarters, stirring three or four times during cooking, until the rice is tender. There should be no golden skin on top. Leave to cool completely, then refrigerate. To keep the pudding relatively light and also dairy-free, leave it as it is. To make it a little richer and more indulgent, stir in some double cream.
More
Popular Q&A
What is the recipe for rice pudding made from scratch.
Ingredients * 2 1/2 cups (600 ml) of whole milk * 1/3 cup (66 grams) of long or short grain white rice * 1/8 teaspoon salt * More