Quick Banana Pudding Recipes condensed milk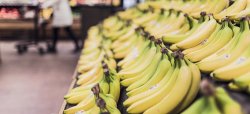 My boyfriend's birthday was the inspiration for today's post. He comes from a southern family – a mother that makes everything from scratch, with family recipes going back generations. So when his birthday rolls around each year, I really want to do him proud by making something that tastes like home.This year, after mentioning it all throughout the summer, I decided to make a southern staple – Banana Pudding.
Banana Pudding looks as decadent as it tastes. Creamy and light with the crunchy texture from the 'nilla wafers, ahhh, it's truly a treat. The best part? It's quick and simple to make! So whether you're making this for a special occasion, or for a Sunday evening dessert, this can be whipped up any day of the week!

Ingredients:
1 ½ cups of water
2/3 cup instant vanilla pudding mix
1 (14 oz) can sweetened condensed milk
3 cups heavy cream
1 (12 oz) box of vanilla wafers
4 bananas sliced
Mix together the water, pudding mix & sweetened condensed milk until smooth. Refrigerate for at least 4 hours or overnight until it sets.
Whip heavy cream until soft peaks form. Working in thirds, fold cream into pudding mixture until well incorporated.
In a trifle bowl, or any casserole dish, layer vanilla wafers, sliced bananas and pudding mixture, continue until you've used all the pudding mixture.* Refrigerate for 30 minutes before serving.
More
Low Carb Evaporated Milk Mix - LC Foods - All Natural - High Protein - Low Lactose - High Calcium - No Sugar - Diabetic Friendly - Low Carb Milk - 4.9 oz


Grocery (LC Foods Corporation)




Low Carb - All Natural - Gluten Free - No Sugar - Diabetic Friendly
All Natural Ingredients
Per 1.5 tsp: 0 Net Carbs
Manufactured in the United States
Includes: 1 - 4.9 oz Mix