Chocolate Chip Cookies recipe with milk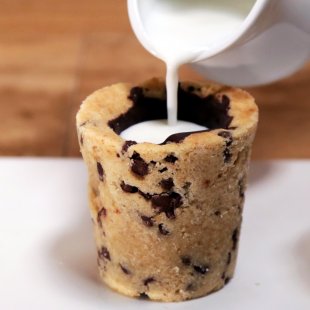 Dominique Ansel, maker of the Cronut, intrigued Americans with one of his latest creations: the Cookie Shot, a chocolate chip cookie cup filled with vanilla milk and inspired by the classic American pairing. While the Cookie Shot is only available at his New York City bakery, we've hacked the concept so you can sip from and chomp on the edible cookie cups at home.
Ingredients
For the cookies:
1 cup shortening
1/3 cup granulated sugar
1/2 cup light-brown sugar
1 large egg yolk
2 teaspoons vanilla extract
2 cups all-purpose flour, sifted
1/2 teaspoon salt
1 cup mini chocolate chips
For the cookie shots:
1 cup
1 1/2 cups milk
1 1/2 teaspoons vanilla extract
Directions
Preheat oven to 350°F. Grease the molds of a .
In a large bowl, cream together the shortening and brown and granulated sugars. Add the egg yolk and vanilla extract, and mix until completely incorporated. Gradually add the flour and salt, and mix until completely incorporated. Add the mini chocolate chips, and mix together until evenly distributed. The dough should be a little crumbly at this point.
Form the cookie shots inside the molds, making the walls of the cookie shot about 1/4 inch thick. Chill for 20 to 30 minutes before baking.
Bake for about 20 minutes or until the cookies just start to brown. Remove from the oven, and let cool completely.
Melt chocolate candy melts, and then pour the melted chocolate into the well of each cookie. Let it sit for a minute, and then pour the excess chocolate back into the pan. Chill cookie shots until the chocolate has set.
More