Sugar free coconut milk ice cream recipe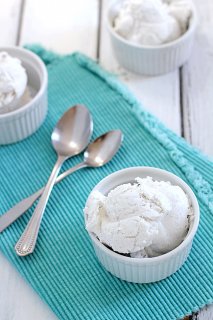 Did you know that you can make ice cream without sugar? No, I'm not talking about replacing sugar for splenda or using alternative sweeteners (e.g. stevia, maple syrup, etc). I'm talking about ice cream without ANY sugar. Seriously.
I've been on an anti-sugar dessert kick. Combined with my recent coconut obsession, this can only lead to one logical thing: sugar-free coconut vanilla ice cream. This ice cream is sugar-free, dairy-free, soy-free, gluten-free, vegan, and paleo. It gets its natural sweetness from the coconut milk and the seeds of a fresh vanilla bean. I know vanilla beans are a splurge, but this is worth it… trust me.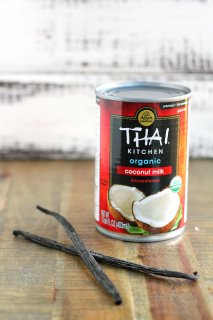 If you require a little more sweetness, I highly recommend roasting cherries and serving these on top of this ice cream. I was going to show you a picture of that, but, well, it disappeared a little too quickly. Oops. And of course, you could always add an alternative sweetener to taste if desired.
But, I have to tell you about the best part of this entire recipe. You don't need an ice cream maker as this can be made in a standard food processor! I prefer to be a kitchen minimalist and I can never seem to justify shelling out the money (or storage space) for an ice cream maker. However, with this recipe, there's really no need.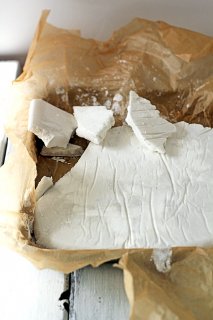 So now that I've hopefully solved all of your ice cream problems (or at least, mine) let's make some ice cream!
We start with two cans of full-fat (unsweetened) coconut milk. For this recipe you want the coconut milk that comes in the can, not the coconut milk beverage that you drink. We'll also need one fresh vanilla bean.
Shake the coconut milk before opening the cans (as coconut milk tends to separate as it sits).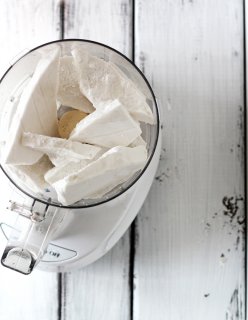 Place a sheet of parchment paper on a rimmed baking sheet. Pour the coconut milk onto the parchment paper and then freeze for several hours, until hard. This step accomplishes a few things: 1) it freezes the coconut milk, which is good because we want ice cream, 2) it freezes the coconut milk in a thin layer which makes it easier to break into pieces and add to the food processor and 3) it is the easiest way I have found to freeze it and then be able to break it up afterwards. The parchment paper makes it easy to 'pop' the frozen coconut milk off the pan and break into chunks. If you freeze the coconut milk directly on the sheet pan, you will never be able to get it off. I'm not kidding.
Then we throw our frozen coconut milk pieces into the food processor.
And process, scraping down the sides as necessary.
When the coconut mixture is beginning to get smooth and resemble a creamy dessert, slice open the vanilla bean and scrape the seeds inside the food processor. Continue to process until smooth and your desired ice cream texture is achieved. Serve immediately. Yum!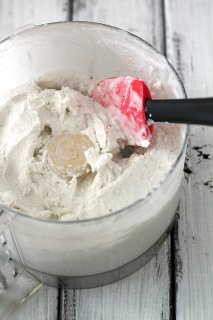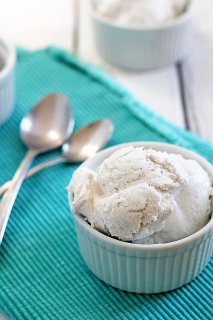 More
Alice Foods Thyroid Support Supplement with Iodine + "Thyroid Disorders" Guide - Premium Natural Ingredients - Improves Energy Levels and Metabolism - Pack of 60 Capsules - Perfect for Men and Women
Health and Beauty (Alice Foods)
SUPERIOR THYROID SUPPORT - Our Thyroid complex is a powerfully effective formula to support thyroid function and overall health. It regulate thyroid function to...
POTENT, NATURAL INGREDIENTS - Unlike other Thyroid supplements available in the market, Alice Foods Thyroid support supplement contains more of natural vitamins...
BOOST ENERGY LEVEL - One of the major symptoms of poor thyroid function is Chronic fatigue and lack of energy. These symptoms affect your complete lifestyle. Our...
IMPROVES METABOLISM AND HELPS IN WEIGHT LOSS - This natural and safe thyroid support complex will help to maintain good metabolism which helps with weight loss...
100% SAFE AND FDA APPROVED FACILITY - All our supplements are made in the USA at a GMP Certified, FDA inspected and approved facility under highest quality control...