Ice cream recipe using evaporated milk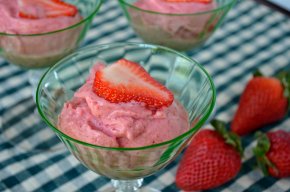 Making good homemade strawberry ice cream is time-consuming and tricky. You'd think simply churning fresh berries with custard would work, but it doesn't. Instead, the fruit ends up icy hard, while the ice cream stays soft and silky—not the ideal texture. With my quick blender method, frozen strawberries pureed with milk and sweetener turn to ice cream… instantly!
Rather than using heavy cream, I keep it light with evaporated milk, which offers all the benefits of cream with half the calories. And because evaporated milk is less rich, it allows the strawberry flavor to really shine. And although I haven't given up sugar, I'm using less of it. Here I sweeten the strawberries with agave, a natural sweetener with a low glycemic index, which prevents the usual sharp rise and fall in the blood sugar.
If you haven't planned your 4th of July dessert yet, here's one to consider. Strawberries are abundant right now. Plus, check out the ingredient list. This recipe calls for just three–strawberries, agave, and evaporated milk. And the best part… you don't even need an ice cream freezer. If you top it with a little whipped cream and a few fresh blueberries, it's the right color for tomorrow's holiday, and it's wonderfully a light, fresh dessert after the big cookout.
by: Three Many Cooks
Serves: Makes a generous 3 cups, serving 6
Ingredients
1 pound fresh strawberries, hulled, halved if large, and frozen
½ cup agave
¾ cup evaporated milk
Instructions
Place frozen berries in a blender canister add agave and milk. Thoroughly blend on highest setting, stopping and stirring the mixture 3 or 4 times to evenly process, so that the ice cream is smooth with small bits of strawberries. Transfer to a shallow pan and freeze to a scoopable texture, about 1 hour.
Notes
You can serve this ice cream straight from the blender, soft-serve style or put it in the freezer for a few minutes to set up. When strawberries aren't in season, simply buy frozen strawberries. Garnish this light, frozen treat with extra sliced strawberries if you like. If you don't want to use agave, simply substitute an equal amount of sugar.
More
Donvier Frozen Pop Molds


Kitchen (Donvier)




Eight molds freeze pops of fruit juice, yogurt, ice cream, and more
Durable plastic with chrome holder; dishwasher-safe
Plastic lids hold wood sticks upright in molds then catch drips while eating
Fit in freezer door: 9-1/4 inches wide, 4-1/4 inches high, 4 inches deep
24 wood sticks, recipe booklet included