Dairy free ice cream recipe coconut milk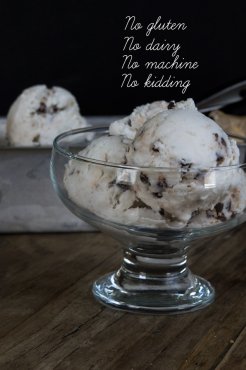 [pinit][pinit] A proper gluten free summer means plenty of gluten free ice cream. I love to at home, without the ice cream machine that I own but never really use. Now, I have no problem with dairy myself. But know some of you are dairy free, and I like to make you happy so you'll like me. So I put my nose to the grindstone and finally, at great long last, I present: Gluten Free Dairy Free Ice Cream with no machine! Plus—no mixing it every 30 minutes or something (how is that fun?). And it's still smooth & creamy & scoop-able. BOOM!
Even though you only see two ingredients shown here, it says "3 ingredients" right there in the photo. There are, indeed, 3 essential ingredients. There are 2 more optional ingredients in the recipe below, but they are truly optional. Oh, and yes, it does taste faintly of coconut. It's made almost entirely of coconut milk, made this way and that way, silly!
I tried this recipe 5 times and failed and failed and failed, sadly, every single time. And until you freeze the ice cream, you can't really be sure that it's a fail. That made this a rather time-consuming project of mine. Of course I could have just used the ice cream machine, but that is just.no.fun. Anyway, apparently the sixth time is the charm! As soon as I mixed up the final goods that you see here, even before it was frozen, I knew. Like you know success when you've already failed miserably 5 separate times over the course of 3 months. I knew.
This is IT baby. And even though I love my dairy yes I really do, I reached for this ice cream before the dairy-full vanilla that has become my true love favorite gluten free ice cream. So dairy free or not, you're gonna love this one. Oh, and before you ask because I know you will want to know, if you omit the gelatin, it really doesn't scoop and it is icy as can be. Take my word for it. And my husband's. He ate a whole lot of it. There isn't much gelatin at all in the recipe (3 grams). Just go for it. ;)
Prep time: Cook time: Yield: 1 1/2 quarts ice cream
Ingredients
3 cans (14 ounces each) coconut milk, 2 of the 3 refrigerated for at least 24 hours*
3/4 cup (150 g) sugar
1 teaspoon (3 g) unflavored powdered gelatin
3 ounces dairy-free chocolate chips (optional)
1 teaspoon pure vanilla extract (optional)
*You must use full-fat coconut milk. Thai Kitchen brand coconut milk and Whole Foods 365 brand coconut milk both work well consistently for this application.
Directions
In a large, heavy-bottom saucepan, place the entire contents of the 1 room-temperature can of coconut milk and the sugar, and mix to combine well. Cook over medium-high heat, stirring frequently to prevent it from splattering, until it is reduced at least by half and thickened (about 10 minutes). You can also cook the mixture over low heat for about 35 minutes, and stir much less frequently. This is now your sweetened condensed coconut milk. Remove from the heat and set aside to allow to cool completely.
Remove the remaining two cans of coconut milk carefully from the refrigerator, without shaking them at all. The solid should have separated from the liquid while it was chilling, and you don't want to reintegrate them. Remove the lids from the cans, scoop out only the solid white coconut (discarding all of the liquid), and place it in a large bowl. With a hand mixer (or in the bowl of a stand mixer fitted with the whisk attachment), whip the coconut on high speed for about 2 minutes, or until light and fluffy and nearly doubled in volume. Place the whipped coconut cream in the refrigerator to chill for about 10 minutes.
Place the gelatin in a small bowl, and mix well with 2 tablespoons of the sweetened condensed coconut milk from the first step. Allow to sit for 5 minutes while the gelatin dissolves. The mixture will swell. Microwave on 70% power for 20 seconds to liquify the gelatin, and then add the mixture to the rest of the cooled sweetened condensed coconut milk.
Remove the coconut whipped cream from the refrigerator and add the sweetened condensed coconut milk mixture and optional vanilla to it. Whip once more until light and creamy, and well-combined (another 1 to 2 minutes). Fold in optional chocolate chips, and scrape the mixture into a 2 quart freezer-safe container. Cover tightly and freeze until firm (about 6 hours). Serve frozen. If it is at all difficult to scoop, allow to sit in the refrigerator for 15 minutes before scooping and serving.
Love,
Me
P.S. Have you ordered your copy of yet? Join the gluten free bread revolution and support the blog that loves you!
More
Popular Q&A
Which non-dairy ice cream (soy, almond, rice, hemp, coconut milk) is the creamiest? | Yahoo Answers
Coconut milk is soooo creamy! Soy is fairly creamy too, if you find the right brand. I haven't tried hemp ice cream yet so I can't say with that one.