Classic Fudge recipe condensed milk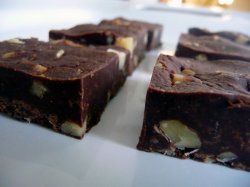 You say "fudge" and I immediately smell the salty air that wafts up from the shores of the Atlantic. Although fudge is a traditional gift toted around in tins at Christmas-time, it always reminds me of the beach. A quaint little beach town (or crowded boardwalk, for that matter) wouldn't be complete without a homemade fudge shop nestled in between the salt water taffy store and the "I forgot sunblock, aloe, and a souvenir" store. You can't walk within 100 yards of it without being completely immersed in the smell of rich chocolate goodness. Seems as though it might be a tad unethical to sell that stuff to people who are already on the verge of passing out from sucking in their stomachs all day at the beach, no?
At any rate, fudge is such a popular confection that I'm amazed I have never made it myself. Perhaps it has been the increasing temperatures and warm breezes that have me daydreaming about feeling sand between my toes, and led me to stirring chocolate and chopping walnuts.
(It also didn't hurt that I saw "Fudge" listed in my Top 100 and thought that it would probably be an easy one to knock off. Shh… don't tell anyone!)
Honest-to-goodness-from-scratch fudge is made by heating together sugar, butter, and milk to a precise temperature, adding chocolate, and then mixing, mixing, mixing until the right consistency is reached. I have made it my goal to make the real deal come holiday season, but there are so many quick recipes that substitute sweetened condensed milk for the heating and stirring of the sugar, butter, and milk that I thought for my first time out I would give a quick recipe a shot. There is also a variation on the quick recipe that uses miniature marshmallows, which is known as San Francisco fudge.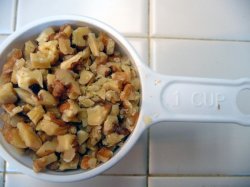 This is an incredibly quick recipe – it takes longer to chop the nuts than it does to put together the rest of the recipe. Melt together the chocolate and sweetened condensed milk, stir in vanilla and nuts, and you're done! Fudge is easy to adapt to suit your taste – use different flavors of chocolate, peanut butter, even maple syrup! The possibilities are endless and I look forward to exploring a lot of them once the holidays roll around.
Want more chocolate candy recipes? Try some of these:
Buckeyes
Yield: 25 pieces
Prep Time: 5 minutes
Cook Time: 10 minutes
Total Time: 15 minutes
Ingredients:
2 ounces bittersweet chocolate
2 cups (12 ounces) semisweet chocolate chips
½ cup sweetened condensed milk
2½ teaspoons vanilla extract
1 cup chopped walnuts (or whatever type of nut you prefer, if any at all)
Directions:
1. Line an 8-inch baking pan with wax paper.
2. Place bittersweet chocolate, semisweet chocolate, and sweetened condensed milk in a bowl set over a pan of simmering water, making sure that the water is not boiling and that the bowl is not touching the water.
3. Stir the mixture occasionally until the chocolate has melted. Stir in the vanilla extract and nuts.
4. Spread fudge evenly in prepared baking pan. Refrigerate for 2 hours, or until firm. Cut when cool and firm.
Storing: Fudge generally should not be stored in the refrigerator because it can dry out. It can be stored for up to a week in an airtight container at room temperature. If you wish to store it for longer than a week, fudge can be frozen for up to six months. Wrap in wax paper and place in a freezer bag.
More
Carnation Evaporated Milk-12 oz, 12 ct


Grocery (Carnation)




12 x 12oz per can
Vitamin D added
A must-have for holiday baking. Adds extra creaminess and richer flavor.
Replaces drinking milk in recipes. Ease one for one milk substitution.
Great for baking and everyday use!
Popular Q&A
I m looking for a recipe for chocolate fudge...with condensed milk in it? Thanx : )? | Yahoo Answers
I assume you mean sweetened condensed milk and not evaporated milk that some people accidently refer to as "condensed". Anyway, slowly melt together a 12 oz bag of chocolate chips with a can of sweetened condensed milk. Stir it until it's smooth and then remove from heat. Add 1 tsp. vanilla extract and 2 Tbs. butter. Spread into a prepared 8 or 9" square pan depending upon how thick you like it. Chill in the refreigerator until it sets up then turn out onto a cutting board and cut into pieces. To prepare the pan, I like to use some butter spray while other people line it with foil...you…