Corn Chowder recipe with evaporated milk
Love it? Pin it to SAVE it to your slow cooker board!
Follow for more great recipes!
This delicious Slow Cooker Creamy Bacon Corn Chowder can simmer all day in the crockpot, and then it's ready to serve when you are ready to eat. This savory soup is filled with bacon, chunks of tender potato, and sweet carrots, so it's very satisfying. The best part of this recipe is that it's made with fresh ingredients and because it's a crockpot recipe it's super easy!
This soup is even better the next day!! There is nothing more comforting than a hot bowl of soup on a cold day and this may be one of the best soups for that! You're going to love this recipe so be sure to save it!
Items you'll need for this recipe:
* * Bacon * *
Slow Cooker: Creamy Bacon Corn Chowder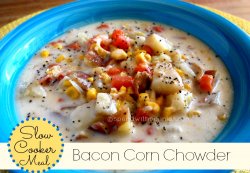 Ingredients
2 14-16oz cans of corn OR one small 10-12oz bag of frozen corn
2 14-16oz cans of creamed corn
2 12oz cans of evaporated milk
1 lb bacon, cooked and crumbled
2 large carrots, chopped
1 large onion, chopped
6 large potatoes, chopped
3 tablespoons of butter or margarine
About 6 cups of water OR chicken broth
Salt and pepper to taste
Instructions
Place everything except for the evaporated milk and butter or margarine into the crockpot.
Add just enough water or chicken stock to cover the ingredients.
Turn the slow cooker onto high for 6 hours, or on low for 8 hours, depending on your desired time-frame and crockpot settings.
Just prior to serving, gently stir in the evaporated milk and butter, and allow it to heat through.
More
Carnation Evaporated Milk 1952 Original Vintage Ad with Fudge and Corn Chowder recipes


Home




Original Vintage Advertisement
5.5x11
Cooking Hints
A Unique Collectible
Recipes in Ad