Caramel sauce recipe with evaporated milk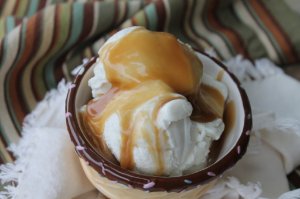 I consider myself a die-hard chocolate lover. I'm not too into caramel and will usually skip it. Having said that, you better believe me when I say this caramel sauce is beyond compare. There is just something about it… there's no stopping at one bite, I'll tell you that. It has the most unbelievable taste. Creamy, caramel flavor – not too sweet and syrupy like so many caramel sauces out there. And the best part, second to the taste, is how easy it is to make. I have tried over and over with recipes that have you actually caramelize the sugar first. Honestly, I usually favor doing things the "right way", the authentic way. However, when batch after batch would burn before the sugar could caramelize, I realized I didn't have the right pan – a thick, bottomed pan really is the key. So I rather dejectedly researched other recipes and found this one… oh my goodness. I will never go through the pain of trying to caramelize sugar again. When I tasted this sauce I about melted into a puddle on the floor, right there! It was that good. I hope this recipe makes you as happy as it makes me! And by the way, there are so many ways to use this caramel sauce. Next week I'm posting a White Chocolate Cheesecake with caramel swirl…..delicious!
Homemade Caramel Sauce
submitted by Brittany ~ The Sisters Café
3/4 cup butter
1 1/2 cups firmly packed brown sugar
2 tablespoons water
1/4 teaspoon salt
3/4 cup evaporated milk
1 tablespoon vanilla extract
Combine butter, brown sugar, water, and salt in a medium sauce pan, over medium heat, stirring constantly. Bring to boil for 3 to 5 minutes depending upon thickness desired. Remove from heat and stir in evaporated milk and vanilla.
More
Popular Q&A