Sweet Potato coconut milk recipe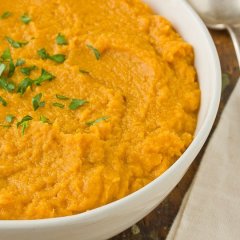 I usually fall into one of two sweet potato camps, depending on the time of year. For Christmas and Thanksgiving, I want marshmallows. Lots and lots of marshmallows. As for the other 363 days, give them to me roasted with a pat of butter. But as much as I love the simplicity of an unadorned baked sweet potato, I forget that just a couple of extra steps can take them from basic to beyond. Like these whipped sweet potatoes, for instance. They stand right between my two usual preferences, both in purpose and preparation. First you roast them to bring out their natural sweetness, and then you add layers of flavor to bring a bit more complexity. But that's where you stop—no marshmallows, cornflakes, or pecan streusels in sight. This recipe meets right in the middle of my extremes.
I played around with a few unexpected ingredients in order to reach maximum flavor potential. I read an article by a famous chef recently about how you should always use the boldest ingredients available to you. (I.e. why would you want to cook with water when you can use rich stocks and big wines to add what wasn't there already?) So instead of regular milk or heavy cream, I used more-interesting coconut milk. It doesn't bring big coconut flavor to the sweet potatoes, it just adds a little something extra.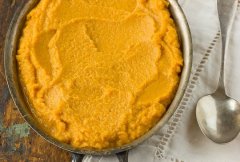 The other unusual addition is vanilla bean paste, instead of plain old vanilla extract. My addiction to this magical product is showing no signs of stopping, and with the brand new quart that recently arrived on my doorstep, I might as well put it in everything! Lastly, the brown sugar, cinnamon, and salt are there to round out the flavors; use your judgement when seasoning. I suggest tasting the cooked sweet potatoes before settling on a sugar amount—some are often much sweeter than others. The cinnamon shouldn't overwhelm the dish, and the salt should go unnoticed. Basically, just follow your instincts.
These whipped sweet potatoes are a great recipe when you need to get out of a vegetable rut. It's a little more dressed up than the average weeknight side but not quite gussied up enough for a holiday. I'm thinking it's perfect for date night or dinner with friends. Whatever your occasion, it will be good!
Whipped Sweet Potatoes with Coconut Milk & Vanilla Bean
Serves 4
4-5 medium sweet potatoes, about 2 to 2-1/2 pounds
1/2 cup coconut milk (or whole milk or cream)
2-3 tablespoons packed brown sugar, to taste
2 tablespoons unsalted butter
1 1/2 teaspoons vanilla bean paste (or pure vanilla extract)
Ground cinnamon, to taste
Kosher salt, to taste
Preheat oven to 425°F. Line a baking sheet with aluminum foil.
Pierce the sweet potatoes a few times with a sharp knife. Place them on the prepared baking sheet and cook until tender and a knife easily pricks through. Remove from the oven and rest until cool enough to handle.
Remove the potatoes from the skins and push through a potato ricer into a mixing bowl, or run through a food mill if you do not have a ricer.
Meanwhile, combine coconut milk, brown sugar, butter, vanilla bean paste, a few dashes of cinnamon, and a generous pinch of salt in a saucepan and cook over medium heat until the butter is melted and sugar dissolved. Reduce heat to low and keep warm.
Add the warmed milk mixture, a few tablespoons at a time, into the potatoes, and beat with an electric mixer on high speed until smooth and fluffy. (You may not use all of the milk mixture.)
Taste and adjust seasonings, adding more sugar, cinnamon, or salt, to taste. Serve immediately. Garnish with chopped parsley or coconut flakes, if desired.
To reheat (or keep warm), place the bowl of potatoes over a bowl of simmering water, stirring occasionally.
More
Happy Baby Organic Creamies, Carrot, Mango & Orangeÿ1 oz (Pack of 2)


Grocery (Happy)




Probiotics For Digestion
50% Veggiesm
Always Organic
BPA & Dairy Free
No GMOs or Artificial Ingredients
Popular Q&A
What is a recipe for sticky rice?
Japanese Sticky Rice recipe continued: Bring to a boil, turn the heat to low, and cover the pan with a tight-fitting lid. Simmer for about 15 minutes, or until the water has been absorbed and the rice is sticky and soft. Keep warm. soon!
How to make sticky coconut rice? | Yahoo Answers
i think it would be just fine using a normal rice cooker, just use one cup of each. i do this a lot, it is so delicious, YUM!