Squash Soup Recipes coconut milk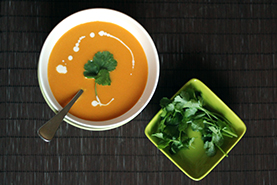 This delicious butternut squash soup recipe not only celebrates one of my favourite vegetables, but two of my other favourite ingredients: ginger and coconut milk. Together they form an irresistible bowl of creamy heaven. The addition of red-lentils adds a little plant-based protein which transforms this soup into a complete meal.
A few wise words from the memory of a great but arrogant French chef
Every time I make a pumpkin soup it takes me back in time to a past life when I was in chef's school learning the arts of the culinary craft. One of our tutors was this rather obnoxious but very talented French chef, and although I can't remember his name, there are two vivid memories that still stick out in my mind:
His hatred towards any student chefs that didn't seem fully committed to the very serious business of professional cooking…
And, on a more useful note, his wise words that stated that a good basic vegetable soup (like this creamy butternut squash soup right here!) shouldn't need stock. Providing that you're careful to gently sauté your onions and garlic (and in this case ginger too) long enough so that they become rich, brown and translucent before adding your water, stock is completely unecessary. It is from this beautifully rich yet simple sauté that he said all the flavour comes from.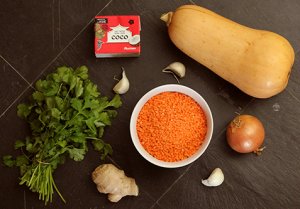 Sounds like good advice to me and it's a tip I still follow to this day. And in terms of flavour, I think it beats those heavily processed little stock cubes that are filled with uncountable questionable ingredients.
Try it and see. You'll thank me after!
Feeds 5-6
1 large onion
3 cloves garlic
1 inch piece ginger
1tsp extra virgin olive oil
150g red lentils
1.5 ltr water
1kg butternut squash pumpkin
200ml coconut milk
Salt and pepper
Coriander
Peel & roughly dice the onion, garlic and ginger. Toss into a large soup pot along with the olive oil, and place over a medium heat.
Sauté gently, with the lid on, stirring frequently to prevent from sticking, for around 10 minutes or until golden and transparent.
Meanwhile wash the lentils by tipping them into a sieve, and placing them under running water. Stir them around with your hand to wash off any dirt or grit.
Peel the butternut squash, scoop out the seeds and cut it into rough dice (see the video below).
When the onion mix is ready, pour in the water and bring to the boil. Add the lentils and the pumpkin and reduce the heat to a light boil.
Set your timer for 17 minutes.
When the timer rings, check your pumpkin & lentils, they should both be tender. If not, continue cooking a few minutes more. Take the pot off the heat and blend until smooth either with a stick blender, or in a standard upright blender.
Pour the coconut milk into the pot of blended soup and season with salt and pepper to taste.
Serve with chopped coriander.
SHORTHAND RECIPE: Sauté 1 onion/1in ginger/3 garlic/1tsp EVOO 10m. +1.5lt H2O/150g red lentils/1kg butternut squash. Simmer 17m ~soft. Blend~smooth. +200ml coconut milk/s+p.
More
Popular Q&A
Do you have a recipe for cauliflower, coconut milk and coriander ...
@mama_cakes: I have been using canned coconut milk from Thailand. After the soup is made and chilled, the coconut oil congeals as a layer of fat on the top (as chicken fat does in chicken soup). It is easy to remove with a slotted spoon.