Jasmine Rice with coconut milk recipe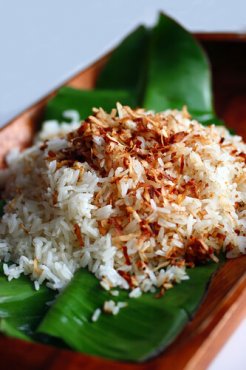 Lets just say a well-respected local newspaper contacts you and says, "Hey, we'd like include you in a food story we're doing. You'll be creating a meal and we'll be shadowing you while you shop and cook. You'll be one of five chefs we'll be profiling. Can you create a dish write a recipe and be ready tomorrow?"
Wow. Me?! Sure!
No problem at all. I'll just create something simple like Seared Sea Scallops with Mango Melon Salsa and Coconut Rice. Its not fancy, its not complicated. Just let the fresh, in-season ingredients shine through. An easy recipe that anyone at home can create. Nooooo problem. Ha! I can cook this dish in 30 minutes. Piece of cake.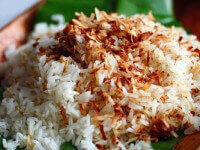 Except for one thing. I've been spoiled by my rice cooker. I don't know how to make jasmine rice without it. The water measurements, timing and technique are totally different. I mean…I've never ventured outside of the 'one-finger-push-button' technique of the rice cooker.
I know. I'm spoiled, sheltered and stupid.
I undercooked my rice in front of the mighty food critic, Brian Ries. I watched him chew chew chew gulp cough. He was brave and polite – but I think I saw him pop a couple of Tums behind my back. He also scribbled notes on his little notepad. It probably read, "lets not call her again."
How could I, a Chinese cook, mess up RICE of all things?!?! Thats totally sacreligious and I might as well be disowned by my "peeps." "Ahhhh….Jaden-grasshoppa….Confucious, Buddha and Jackie Chan all very much upset. We meditate and pray for your awakening."
Thank goodness that the scallops were perfectly cooked and the salsa was refreshing. I'll post the photos next week when the paper publishes the article. Of course I had to go home immediately and make the rice properly in a pot just to prove myself a worthy citizen of the Chinese race.
Yum
Servings: 4-6 as side dish Prep Time:
More