Beef curry recipe coconut milk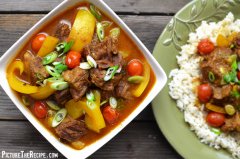 I came across a slow cooker recipe of Coconut-Curry Beef here, that looked delicious and I really wanted to try it. But since I don't own a crock-pot, I coverted it into a non-slow cooker recipe, like my Honey Seasame Chicken recipe I did earlier and gave it a go in my trusty pressure cooker. Now, you don't need a pressure cooker for this recipe, but if you have one and know how to use it properly it cuts the cooking time drastically and makes the meat so tender, it just falls apart. If you don't have a pressure cooker, simply cook the curry in a dutch oven or big pot either on the stove or in the oven.
The cook time of this recipe may be a long but the prep work and recipe are super simple. The long cook-time is basically cos you want the meat very soft and tender enough to cut with a fork.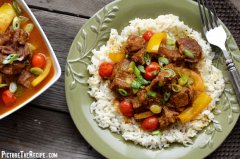 This recipe re-heats very well, infact it develops more flavor the next day like stews do, so it makes for a great make-ahead party dish. If you're a fan of curry, this dish is definitely for you.
Serves 6
A delicious Asian-inspired beef in a coconut curry sauce with cherry tomatoes and peppers. Perfect over rice and garnished with green onion.
Ingredients
1 1/2 lb beef chuck roast, cut into 2″ pieces
1 large onion
4 cloves of garlic
1 tsp fresh grated ginger
2 tbsp vegetable oil
3/4 tbsp curry powder
1 tsp cayenne
1 (13.6oz) can of light coconut milk
2 tbsp brown sugar
1 tbsp soy sauce
1/2 tbsp fish sauce
1 yellow bell pepper, chopped in chunks
1/2 pint cherry tomatoes
salt to taste
2 green onions/scallions for garnish
More