Recipe for coconut cake using coconut milk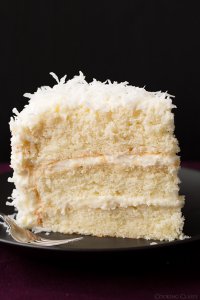 Last week I posted my favorite chocolate cake recipe and I this week I decided why not keep a good thing going – and make more cake? So, today I'm sharing my favorite coconut cake recipe with you. Luckily this one didn't take as many attempts as the chocolate cake to get it just where I wanted.
This coconut cake is elegant and sophisticated yet very traditional and simplistic. It's like the cake you remember your grandmother serving at family parties growing up. I love a good old fashioned recipe. The classics are often the best.
This has probably got to be the softest cake I've ever made. It is incredibly moist (because we all hate a dry cake right?) and it is layered with sweet, natural coconut flavor with every bite, which is complimented perfectly by the light tang of the cream cheese in the frosting. Good luck saying your only going to have a thin slice. Not gonna happen with this cake :). Enjoy!
Ingredients
Directions
For the cake:
Preheat oven to 350 degrees. Butter 3 9-inch round cake pans and line bottom of each with a round of parchment paper, butter parchment paper and set pans aside.
Sift cake flour into a large mixing bowl, then add baking powder and salt and whisk mixture for 20 seconds. In the bowl of an electric stand mixer, fitted with the paddle attachment, blend together granulated sugar, butter and canola oil on medium speed until well combined. Add in egg yolks one at a time and mix until combined after each addition (reserve 2 egg whites), then mix in coconut and vanilla extracts. Working in three separate batches, beginning and ending with flour mixture, add 1/3 of the flour mixture, alternating with 1/2 of the coconut milk and mixing just until combined after each addition (if you don't have the paddle attachment that scrapes the sides of the bowl, stop mixer and scrape sides and bottom occasionally).
In a separate mixing bowl, using an electric hand mixer, whip 6 egg whites with cream of tartar on medium-high speed until stiff (but not dry) peaks form. Using a rubber spatula, carefully fold 1/3 of the egg whites into cake batter at a time and fold just combined after each addition (don't over-mix and deflate egg whites). Divide batter among prepared cake pans. Spread batter into an even layer and bake in preheated oven until toothpick inserted into center of cake comes out clean, about 19 - 22 minutes. Allow to cool in cake pan 5 - 10 minutes then run a knife along edges of cakes and invert each onto a wire rack to cool. Cool completely the cut tops to even as needed.
Frost top of one layer, add another layer and frost then top with last layer and frost top and sides. Place cake stand over a rimmed baking sheet and sprinkle cake evenly with shredded coconut (pressing gently on sides to adhere. I just did it over a rimmed baking sheet for easier clean up - not a must). Store in an airtight container.
For the Coconut Cream Cheese Frosting:
In the bowl of an electric stand mixer fitted with the paddle attachment, whip butter with cream cheese until smooth and fluffy. Mix in coconut extract. Add powdered sugar and whip on medium speed until smooth and fluffy. Chill as needed if frosting seems runny (slightly runny is fine, once you get it frosted the coconut will help it stay in place).
Recipe Source: Cooking Classy
More
Caribbean Joy Coconut Milk, 13.5 oz. (2 Cans)


Single Detail Page Misc




Delicious coconut milk that is an essential addition to your pantry
Essential ingredient in Caribbean cuisine
Can be used to make beverages, cakes, candies, curries and much more
Product of Thailand
Perfect for all your favorite recipes
Popular Q&A
How to add sweetened condensed milk to a cooling cake? | Yahoo Answers
I wouldn't take the cake out of the pan--after baking, just put the pan with the cake IN it on the cooling rack and poke your holes, pour your mixture on it, and then let it cool completely.
If you try to take the cake out after baking, you'll end up with a big mess on the counter--and your cake may break apart when you poke the holes in it. Leave it in the pan. After it completely cools, you can transfer it to another serving platter or just serve it from the baking pan. This is a pretty gooey cake--and too much movement will just cause it to fall apart. When you pour something semi-l…