Milk Chocolate cake recipe from Scratch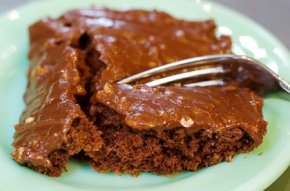 When I posted my recipe for "The Best Lasagna Ever" yesterday, I couldn't have anticipated that I'd wind up hearing from Draco, a real-live Italian who lives near Bologna, Italy, where lasagna was first created. Nor could I have ever predicted I'd hear from MP, who lives in an Italian neighborhood and buys Parmiganno-Regianno by the bag, dang it. I might just go ahead at this point and clarify that yes, my lasagna is, in fact, "The Best Ever"…unless you live near Bologna, Italy or in an Italian neighborhood or anywhere near Mario Batali. Okay? Are you happy now, Draco? Party pooper.
Now…this cake? This cake is another story. It is absolutely, without a doubt, The Best Chocolate Sheet Cake. Ever. It's moist beyond imagination, chocolatey and rich like no tomorrow, and 100% of the time, causes moans and groans from anyone who takes a bite.
The Cast of Characters. Very basic ingredients—perfect for us Pioneer Women who live out in the country and nowhere near dutch processed cocoa, Madagascar vanilla extract, or creme fraiche. All you need for this wonderful cake is sugar, flour, salt, butter, cocoa, baking soda, buttermilk, eggs, vanilla, powdered sugar, milk, and pecans. Are you ready? Let's go dance with the devil!
First, melt 2 sticks regular (not unsalted) butter in a saucepan. While it's melting, boil 1 cup of water.
When the butter is melted, add 4 heaping tablespoons cocoa powder…
And mix thoroughly.
With the heat still on, pour in the boiling water…
And allow the mixture to bubble for 30 seconds.
Turn off heat. Set aside.
In a large mixing bowl, combine 2 cups flour, 2 cups sugar…
And 1/4 teaspoon salt.
Pour the hot butter/chocolate mixture over the top…
And stir together slightly, just to cool the chocolate.
In a measuring cup, pour 1/2 cup buttermilk.
PIONEER WOMAN BACK-UP PLAN: Living way out in the country, I often find myself missing key ingredients for many recipes and have had to learn to improvise. I usually don't have buttermilk in the fridge when I want to make this cake, so here's what I do: pour just under 1/2 cup regular milk into the measuring cup, then add enough regular vinegar to the milk to bring the quantity up to 1/2 cup. Within seconds, it turns into buttermilk and works perfectly. Try it sometime!
To the buttermilk, add 2 beaten eggs…
1 teaspoon vanilla…
And 1 teaspoon baking soda. Stir together.
Add the buttermilk mixture to the chocolate/flour mixture.
Stir together well.
I use this commercial baking sheet, but any jelly roll pan will do.
Pour the luscious batter into the ungreased pan…
And spread it evenly.
Bake the cake at 350-degrees for 20 minutes. While the cake is baking, it's time to make the evil, decadent frosting.
Chop 1/2 cup pecans…
Into pretty small pieces. Keep on choppin'—the smaller and crunchier, the better.
In a saucepan (I always wash and use the same one as before), melt 1 3/4 sticks of regular butter (not to be confused with 1 1/2 sticks or 2 sticks, for pete's sake.)
Once the butter is melted, add 4 heaping tablespoons cocoa powder.
Stir together, and allow to bubble for 30 seconds. Turn off heat.
Then add 6 tablespoons milk…
And 1 teaspoon vanilla. Stir together.
Then add 1 lb. powdered sugar. Actually, I like to add about 1/2 cup less than 1 lb., but I was too embarrassed to admit that I wouldn't be able to tell you what quantity that is. So add a pound, but hold a little back, and please don't ask me how much that is, because I hate math.
Then add the chopped pecans…
And stir together again. PIONEER WOMAN MEDICAL ALERT: If you're like my sister Betsy and your throat closes up and your head swells to three times its size if you ingest even a tiny speck of a tree nut, you can certainly leave out the pecans. Just be sure to stir the icing well enough to get rid of the tiny clumps of powdered sugar, because you won't have the nuts to break them up. (Huh huh. I just said "nuts".) And yes, you can sift the powdered sugar beforehand, but I usually can't ever be bothered with such nonsense.
Now pour the evil, adulterous, wicked frosting over the warm, ridiculous cake.
Try to pour it all over the surface, so you won't have to do much spreading.
The warmth of the cake should do most of the work for you, causing the stupidly delicious frosting to spread on its own. You'll have to help it along a little, but the less you have to spread, the better.
Sigh. Before you sink your teeth into this beautiful creation, take a moment. Pause and reflect upon how fortunate we are to be human. To be able to control the various ingredients in our kitchens. To be able to harness the energy necessary to heat an oven. To melt butter. To chop nuts. To eat…to eat…chocolate.
More
Limited Edition Nestle Pumpkin Spice Baking Morsels, Betty Crocker Oatmeal Cookie Mix - Included Is Exclusive Honey Bear Chewy Oatmeal Cookies Recipe


Grocery (Combined Brands)




Bake up so autumn goodness - oatmeal cookies with pumpkin spice baking morsels
Betty Crocker Oatmeal Cookie Mix is 17.5 ounces, makes 18 plus cookies - No colors, artificial flavor or preservatives
Add Nestle Toll House Pumpkin Spice Limited Edition baking morsels and you have a very special treat to share
And if you want to make a delicious chewy oatmeal cookies, included is an exclusive recipe
Bake some delicious cookies for family, friends and guest during the Holidays!
Popular Q&A
How to add a chocolate bar to a chocolate cake recipe? | Yahoo Answers
I think I would chop it really fine and not melt it. I wouldn't change your recipe just for adding that amount of chocolate. Even if you melt it, it won't be like adding liquid. Sounds great!