Eggless sponge cake recipe with condensed milk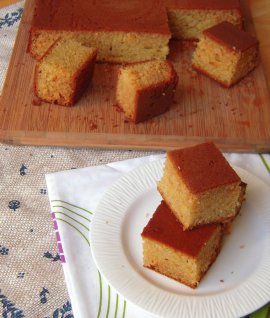 It has been a while since I shared a cake recipe here. I do bake often but not all get posted here. I had clicked these pictures quite a while back. Only now it is making its way to this space. When ever I have a cake craving, it is usually for chocolate cake or a brownie. But, DH loves plain vanilla cake. So, when ever he requests me for a cake, it is plain vanilla only. Anything else should come with an icing.
I make the plain vanilla cake in a couple of ways, sometimes with yogurt, sometimes with vinegar. But, my favorite way is with condensed milk. So, if I have condensed milk can at home, I go this way.
There are many recipes floating around the web for a cake with condensed milk. Even, I remember my mom making cakes with condensed milk. I can say it is the most traditional way of making egg less cakes. For the liquid content of the cake, I like to use coke or soda water. It really makes a difference to the texture of the cake. However, it can be replaced by milk or water if you don't have aerated cold drink at hand.
Eggless Vanilla Cake (With condensed milk and coke)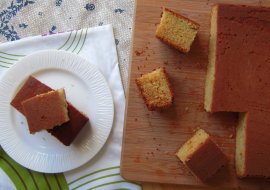 11/2 cup AP Flour
2 tsp baking powder
1 tsp baking soda
1/2 cup soft butter
1 tin sweetened condensed milk (400gm)
2/3 cup coca cola at room temperature.
2 tsp vanilla extract
Butter and flour for greasing and dusting the pan
Process:
1. Preheat the oven at 180 C. Line a 9" square tin. Please note that baking time may vary if you choose a smaller or larger tin. So, adjust accordingly.
2. Shift the flour, baking powder and baking soda twice. Set aside.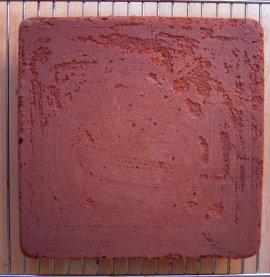 3. In a large bowl whip the condensed milk and butter till the mixture is creamy.
4. Add the flour mixture to the creamed mixture in 2-3 parts. Keep stirring while adding flour mixture. Add the coke in the end and whisk for another 2 minutes. The batter will have a pouring consistency.
5. Pour the batter in the prepared tin and bake it in the preheated oven for 15 minutes at 180 C. Then lower the temperature to 160 C and bake for another 25- 30 minutes.
6. The cake is done when a skewer inserted in the middle comes out clean. Cool for at least 15 minutes before turning the cake out of the tin. Slice and enjoy!
Notes:
1. Add the aerated drink at the end only and be fast in pouring it into the greased pan and get baking.
2. Aerated drink can be replaced by room temperature milk or water. But, I find aerated drink gives a lighter texture to the cake.
3. If you are using a smaller pan, it make take longer to bake it. Similarly, if using a larger pan, it will get baked quicker. So, adjust accordingly and keep an eye.
More
Baby Food Storage, Homemade Baby Food Storage, Baby Food Storage Containers to use as a Baking Mold or Freezer Tray. Adorable 3 Oz. Praline Shapes Available in Four Colors by Silicandy
Baby Product (RSB Innovations)
SAFE FOR YOUR FAMILY. Made of 100% pure FDA approved professional food grade silicone, chemical-free. OVEN, DISHWASHER, and FREEZER safe from -40*F - 460*F
SAVE MONEY ON COMMERCIAL BABY FOOD preparing in bulk and freezing in advance! Each cavity will hold approximately 3 Oz.
MAKING MOM AND DAD S LIFE EASIER- Flexible non-stick silicone tray and lid make the tray super easy to work with. Baby s food will pop right out directly from the...
FUN ADDITION TO YOUR KITCHEN!-Can be used for multiple confections including Breast Milk mixed with Baby cereal, Yogurt and Fruit pops, baking cupcakes for the older...
CHOCOLATE COLORS! Available in 4 detailed chocolate praline colors, collect them all!
Popular Q&A
what is a good recipe for eggless cake? | Yahoo Answers