Eggless condensed milk cake recipe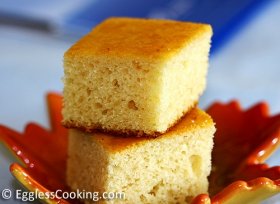 When I posted this eggless vanilla cupcake recipe a few weeks back, I was being asked if it could be baked without the egg replacer powder. I suggested to increase the quantity of baking powder to substitute EnerG. Some did it and got good results and some didn't. I too made some changes to that recipe to bake it without EnerG but did not get satisfactory results. The cupcakes did not turn out as good as the ones with Ener-G. So I was looking for another eggless vanilla cake recipe which can be baked with simple ingredients and landed on this one. I have come across this recipe before and somehow didn't get a chance to try it until recently. Since the visitors' request for a simple eggless cake was becoming more frequent I decided to give it a try and I would say that I was not disappointed at all. It was not as fluffy and airy as the cupcakes but was definitely a decent recipe.
After going through the reviews of the original recipe I have made a couple of changes to make it better. The only other thing I would like to try the next time is to use cake flour instead of all purpose flour. I think that particular variation will give a lighter texture to the cake. So do try it when you get a chance.
TOP RATED
Eggless Vanilla Cake from 141 reviews
This Eggless Vanilla Cake is simple to bake and uses readily available ingredients. The taste and texture makes it perfect for any occasion.
2 and 1/2 cups All Purpose Flour
2 teaspoons Baking Powder
1 teaspoon Baking Soda
1/4 teaspoon Salt
2 tablespoons Sugar
1 can Sweetened Condensed Milk (I used a 300ml can)
1 cup Water
2 tablespoons Vinegar
2 tablespoons Vanilla Extract
1/2 cup Melted Butter
Preheat the oven at 350F/180C for 15 minutes. Lightly grease a 9x13 inch pan and line it with parchment paper.
In a large bowl sift together the flour, baking powder, baking soda and salt. Mix in the sugar.
Make a well in the center of the dry ingredients and stir in the the wet ingredients one by one. Stir the mixture together using a whisk. Some lumps is okay.
Pour the batter in the prepared pan and tap the pan to even it out and break the air bubbles if any.
Bake it for 25-35 minutes. The first time I baked this eggless cake I checked it for doneness after 30 minutes and felt that I could have taken it out 2-3 minutes earlier.
The bottom had started to brown more than it is required to. So I did that the next time and took the pan out the oven after 27 minutes itself and the cake turned out to be perfect.
Transfer the pan to a cooling rack and remove the cake after 15-20 minutes. Place the cake on the rack for it to cool down completely before slicing it.
More
Baby Food Storage, Homemade Baby Food Storage, Baby Food Storage Containers to use as a Baking Mold or Freezer Tray. Adorable 3 Oz. Praline Shapes Available in Four Colors by Silicandy
Baby Product (RSB Innovations)
SAFE FOR YOUR FAMILY. Made of 100% pure FDA approved professional food grade silicone, chemical-free. OVEN, DISHWASHER, and FREEZER safe from -40*F - 460*F
SAVE MONEY ON COMMERCIAL BABY FOOD preparing in bulk and freezing in advance! Each cavity will hold approximately 3 Oz.
MAKING MOM AND DAD S LIFE EASIER- Flexible non-stick silicone tray and lid make the tray super easy to work with. Baby s food will pop right out directly from the...
FUN ADDITION TO YOUR KITCHEN!-Can be used for multiple confections including Breast Milk mixed with Baby cereal, Yogurt and Fruit pops, baking cupcakes for the older...
CHOCOLATE COLORS! Available in 4 detailed chocolate praline colors, collect them all!