Cake Recipes using condensed milk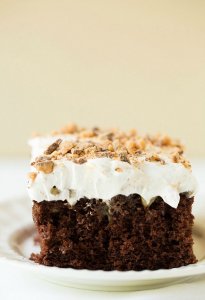 Do you remember waaaaaay back in the early 2000's (which is like decades ago in Internet years), there were recipe exchanges via email? I don't remember exactly how it worked, but there was a list of people in an email chain… you sent a recipe to everyone on the list and you got a recipe back in return from each person. A lot of the recipes that are my favorites to this day were procured through this email recipe exchange, this cake chief among them. While this cake is better know with an R-rated title, I cleaned it up a bit and called it Better Than Anything Cake to make sure I stay out of the junk filters, but the flavor combination is unmistakable: a chocolate poke cake infused with sweetened condensed milk and caramel sauce, then topped with Cool Whip and toffee bits.
I typically use chocolate cake recipes from scratch when making desserts, but I also love having a few recipes in my back pocket that can be whipped up quickly using a box mix if I'm in a bind. My other favorite for these types of situations is the Ho Ho Cake (which I tend to make multiple times during the month of December!). If you prefer, you could definitely use your own homemade chocolate cake recipe; my recipe of choice would be the Hershey's Perfectly Chocolate Cake, baked in a 9×13-inch cake pan.
Do you have any old recipes from recipe exchanges? What about a favorite poke cake flavor combination?
Three years ago: Minestrone Soup
Four years ago: Maple-Bacon Kettle Popcorn
Yield: 10 to 12 servings
Prep Time: 1 hour
Cook Time: 30 minutes
Total Time: 1 hour 30 minutes
Better Than Anything Cake: The G-rated title for the popular cake made with devil's food chocolate cake, infused with sweetened condensed milk and caramel sauce, topped with Cool Whip and Heath toffee bits.
Ingredients:
1 box devil's food cake mix
1 (14-ounce) can sweetened condensed milk
1 (12-ounce) jar caramel ice cream topping
8 ounces Cool Whip
½-1 cup Heath toffee bits
Directions:
1. Bake the cake according to the directions on the box.
2. Remove the cake from the oven and immediately poke holes all over the top using either the bottom of a wooden spoon, a skewer or a fork.
3. In a medium bowl, stir together the sweetened condensed milk and caramel sauce, then slowly drizzle the mixture all over the cake. Allow the cake to cool completely at room temperature, then refrigerate for at least 1 hour.
More