Cake recipe coconut milk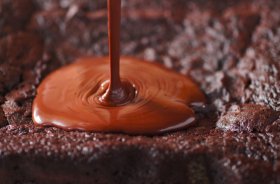 I've finally moved into my amazing little flat in London. Today my mum left after helping me out and going on holiday - we've been on the move for weeks.
It feels so good that I can finally settle down into my new home. My boxes have been shifted, my furniture has been assembled. Sadly my kitchen is still in utter chaos.
Unfortunately I don't have internet yet in my flat so I'm not properly online. If my battery doesn't run out first, I'm sorting that out right after this. I'll reply to comments and email soon too - I'm sorry for the wait.
I found this recipe months ago and have been meaning to make it since. The inclusion of coconut milk into the cake itself fascinated me. I made it to take to a dinner party just before we left Switzerland at the end of August.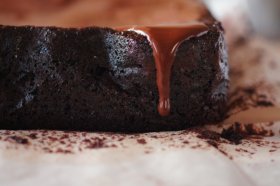 Instead of the buttercream icing I made a coconut milk ganache - I thought of the idea a few months ago and thought I was being very original until I googled it. I adored the way it came out - it's thick and slightly sweet and essentially just really delicious.
The overall result is a fudgy chocolate cake that is at once very rich but not too heavy. There's a hint of coconut milk in both the cake and ganache but it's not overwhelming. It's utterly gorgeous.
Coconut Milk Chocolate Cake
(Cake recipe adapted from this recipe on the little red house. blog)
For the cake:
55g dark chocolate (70%)
85g quality cocoa powder
200ml boiling water
145g plain flour
1 & 1/2 tsp baking powder
1/4 tsp salt
90g unsalted butter
230g caster sugar
50g dark muscovado sugar
2 eggs
275ml coconut milk
For the ganache:
125ml coconut milk
125g dark chocolate (70%)
Line an 8" square pan with greaseproof paper. Preheat the oven to 180C/350F. Chop the chocolate up and place in a small bowl with the cocoa powder. Pour over the boiling water. Whisk until the chocolate has melted and the mixture is smooth. Set aside to cool.
Sift the flour, bicarbonate, baking power and salt into a bowl. Melt the butter in a small saucepan. Place the sugars in the bowl of a stand mix and whisk quickly to combine. Add the melted butter and whisk until combined. Add one egg and whisk to combine.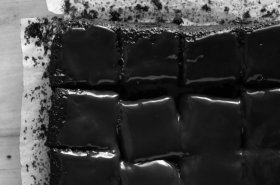 Add the other egg and then whisk for 3 minutes until pale and thick.
Slowly add the coconut milk and then the chocolate mix, whisking as you go. Finally add the content of the flour bowl and whisk to combine. Pour into the prepared pan. Place in the oven and cook for 30-40 minutes, or until a toothpick comes out from the centre with a few damp crumbs instead of liquid mixture. Sit on a wire rack until cool.
When you're ready to ice the cake, pour the coconut milk into a small saucepan and place over a medium heat. Chop the chocolate into small chunks and place into a small bowl. When the coconut milk just comes to a boil take off the heat and pour over the chocolate. Leave for one minute then whisk until smooth. Let cool for 10 minutes before pouring over the cake.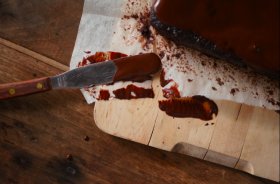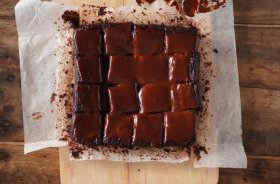 More
Popular Q&A
Why people use coconut milk in recipes?
So far as I know its widely used to give your food nutritions from coconut milk, it lasts longer compared to food cooked with water (applicable in hot and humid countries). And yes it improves hair growth and skin health too ..